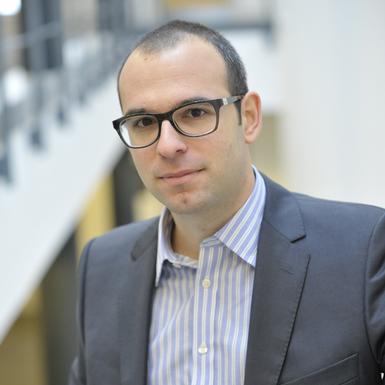 Research Interests
Innovation; economics of technology; data, information and knowledge in digital, economic and social networks; financial telecommunication; financial services innovation; ICT adoption and diffusion.
Teaching in 2013-2014
Finance and IT
IB9AV0 Global Finance and IT
Information Systems Management & Innovation
IB94V0 Data & Business Intelligence
Undergraduate
IB2420 Digital Business and Workplace Technologies
Biography
Markos is an Assistant Professor at the Information Systems & Management Group, Warwick Business School and a co-investigator on a SWIFT funded project at the London School of Economics. Prior to joining WBS, Markos was a Research Associate at Cambridge Judge Business School, on a CLAHRC (Collaborations for Leadership in Applied Health Research and Care) multidisciplinary project researching the diffusion of service innovation through knowledge exchange and multidisciplinary teams in healthcare.

Previously, Dr Zachariadis also held a research position (RA) at the Centre for Economic Performance, Innovation and Productivity Programme, at the LSE and was a Tutorial Fellow at London Business School. He has held visiting appointments at Judge Business School (2009) and London Business School, Management Science & Operations group (2011).

Markos studied economics and social science at the University of Patras (BSc Hons in Economic Science) and received his MSc and PhD from the London School of Economics where he did research on the history, diffusion and economics of innovation in the financial services sector. For his research on the economics of networks he has received a NET Institute Award (NYU Stern) – http://archive.nyu.edu/handle/2451/31404

Markos has worked as a business analyst and consultant for a number of organizations including Hewlett Packard, UBS Investment Bank and Cobalt Tree Capital in Greece, Spain, and the UK.
Recent Publications
Journal Articles
Zachariadis, Markos, Oborn, E., Barrett, M., & Zollinger-Read, P.. "Leadership of healthcare commissioning networks in England: a mixed-methods study on clinical commissioning groups"
BMJ Open 3 (2013): e002112.
Zachariadis, Markos, Scott, S., & Barrett, M.. "Methodological Implications of Critical Realism for Mixed-Methods Research"
MIS Quarterly 37 (forthcoming) (2013)
Scott, S., Zachariadis, Markos. "Origins and development of SWIFT, 1973–2009"
Business History 52 (2012): 462-483.
Books
Book Chapters