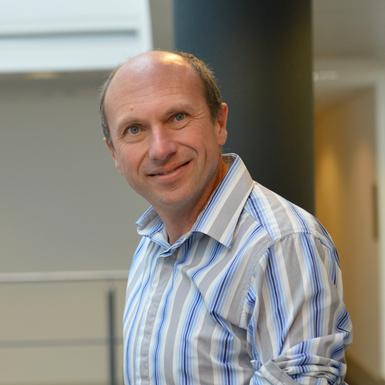 Research Interests
Geoff's research interests centre on the relationship between national institutional setting, corporate governance, firm finance, and firm level work and employment relations. Whilst much of the contemporary comparative institutional literature draws distinctions between national contexts based on stylized ideal types, macro-economic trends and/or limited panels of case studies, his work brings to bear systematic comparative firm level evidence. At a broader theoretical level, his work encompasses explorations of the bounded nature of internal diversity within national capitalist archetypes, and, more recently, institutional crisis and change. In his recent work, he has linked broader systemic crises with energy transitions, and the extent to which the latter favours owners of more fungible assets.

Geoffrey Wood regularly presents keynote speeches and seminars at academic conferences and leading universities worldwide. A podcast of a recent talk can be downloaded at:
http://www.brunel.ac.uk/bbs/research/research-centres/ceibiem/news-and-events/news/ne_131504
He was the winner of the ECGI 2012 prize (with Marc Goergen and Noel O'Sullivan) for the best working paper in finance.
Teaching in 2014-2015
Research Students
IB9EK0: Advanced Issues in Strategy and International Business
Biography
Geoffrey Wood is Professor of International Business at Warwick Business School, University of Warwick. Previously, he was Professor in the School of Management at the University of Sheffield, and Associate Dean of the School, and before that Professor and Director of Research at Middlesex University Business School, and previously taught at Rhodes University, South Africa (where he attained the rank of Associate Professor). He has also held visiting fellowships at Cranfield University, Victoria University of Wellington (New Zealand), and the American University in Cairo, Cornell University and Rhodes University. He currently is Honorary Professor of the University of the Witwatersrand, and Visiting Professor at Nelson Mandela University, both in South Africa, and Adjunct Professor at Griffith University, Australia. Geoffrey Wood has served as Commissioned Researcher for the South African Truth and Reconciliation Commission. He has authored/co-authored/edited sixteen books, and over one hundred and twenty articles in peer-reviewed journals (including journals such as Work and Occupations, Work Employment and Society, Organization Studies, Human Relations, British Journal of Industrial Relations, Human Resource Management (US), etc.). He has had numerous research grants from funding councils (e.g. ESRC), government departments (e.g. US Department of Labour), charities (e.g. Nuffield Foundation) and the labour movement (e.g. the ITF).

Editor-in-Chief of the British Journal of Management

Editor of the European Academic Journal Guide (ABS List)
Recent Publications [all...]
Journal Articles
Wood, G., Dibben, P., and Ogden, S... "Comparative Capitalism without Capitalism, and Production without Workers: The Limits and Possibilities of Contemporary Institutional Analysis"
International Journal of Management Reviews 16 (2014): 384-396.
Prof Geoffrey T Wood, Prof Khalife Mazouz, Dr Shuxing Yin, Dr Jeremy Cheah. "Foreign Direct Investment from Emerging Markets to Africa - the HRM Context"
Human Resource Management 53 (2014): 179-201.
Prof Geoffrey T Wood, Dr Tamar Darwish, Dr Satwinder, Singh. "The Impact of Human Resource Practices on Actual and Perceived Organisational Performance in a Middle-Eastern Emerging Market"
Human Resource Management (accepted for publication, in print) (2014)
Prof Geoffrey T Wood, Dr Nicola Burgess, Prof Graeme Currie, Dr Karoline Strauss. "Organizational Ambidexterity and the Hybrid Middle Manager: The Case Of Patient Safety In UK Hospitals"
Human Resource Management (accepted for publication, in print) (2014)
Prof Geoffrey T Wood Prof Chris Brewster and Prof Marc Goergen. "Institutions, Unionization and Voice"
Economic and Industrial Democracy doi 10.1177/0143831X13501004, early online at http://eid.sagepub.com/content/early/recent (2014)
Prof Geoffrey T Wood, Prof Mehmet Demirbag, Prof Kamel Mellahi, Dr E Tatoglu. "High-Performance Work Systems and Organizational Performance in Emerging Economies: Evidence from MNEs in Turkey"
Management International Review 54 (2014): 325-359.
Prof Geoffrey T Wood,Prof Marc Goergen and Prof Noel O'Sullivan. "The Consequences of Private Equity Acquisitions for Employees: New Evidence on the Impact on Wages, Employment and Productivity"
Human Resource Management Journal DOI: 10.1111/1748-8583.12032, early online at http://onlinelibrary.wiley.com/doi/10.1111/1748-8583.12032/abstract (2014)
Prof Geoffrey T Wood, Prof Chris Brewster, Prof James Walker. "Diversity Between and Within Varieties of Capitalism"
Industrial And Corporate Change 23 (2014): 493-533.
Prof Geoffrey T Wood, Dr Ali Ataulla, Prof Ian Davidson and Dr Hang Le. "Corporate Diversification, Information Assymetry and Insider Trading"
British Journal of Management early access at http://onlinelibrary.wiley.com/journal/10.1111/%28ISSN%291467-8551/earlyview (2014)
Wood, G., Dibben, P. and Klerck, G... "The Limits of Transnational Solidarity: The Congress of South African Trade Unions and the Swaziland and Zimbabwe Crises"
Labor History 54 (2013): 529-539.
Prof Geoffrey T Wood, Profs Marc Goergen, Chris Brewster and Salim Chahine. "Trust, Owner Rights, Employees and Firm Performance"
Journal of Business Finance and Accounting 40 (2013): 589-619.
Prof Geoffrey T Wood, Prof Chris Brewster, Prof Mehmet Demirbag, Dr Hang Le. "Management Compensation in MNCs: Cross-National Empirical Evidence"
Management International Review 53 (2013): 741-762.
Prof Geoffrey T Wood, Prof Chris Brewster, Dr Mick Brookes and Prof Phil Johnson. "Direct involvement, partnership and setting: a study in bounded diversity"
International Journal Of Human Resource Management 19 (2013): 2004-2023.
Books
Richard Deeg, Adrian Wilkinson, and Geoffrey Wood. "Oxford Handbook of Employment Relations: Comparative Employment Systems."
Oxford (2014)
Book Chapters
Prof Geoffrey T Wood, Prof Chris Brewster, Prof Marc Goergen. "Ownership Rights and Employment Relations"
Oxford Handbook of Employment Relations: Comparative Employment Systems (2014)
Prof Geoffrey T Wood, Prof Adrian Wilkinson. "Institutions and Employment Relations"
Oxford Handbook of Employment Relations: Comparative Employment Systems. (2014)
Prof Geoffrey T Wood, Prof Christel Lane. "Capitalist Diversity: Work and Employment Relations"
Oxford Handbook of Employment Relations: Comparative Employment Systems. (2014)
Prof Geoffrey T Wood, Prof Fang Lee Cooke. "New Actors in Employment Relations"
Oxford Handbook of Employment Relations: Comparative Employment Systems. (2014)
Prof Geoffrey T Wood, Prof Pauline Dibben. "Privatisation and Employment Relations in Africa: the case of Mozambique"
Newenham-Kahindi, A., Kamoche, K., Chizema, A. and Mellahi, K. (eds.), Effective Management of People in Africa. (2013)
Prof Geoffrey T Wood. "Comparative Capitalism Theory"
Oxford Bibliographies in Political Science (2013)