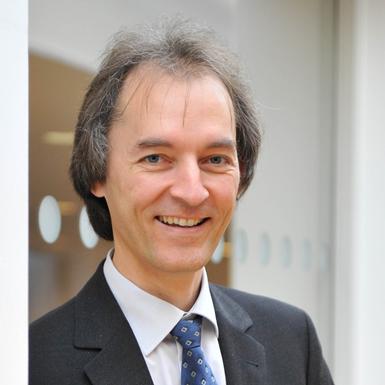 Research Interests
Nature inspired optimisation; logistics and scheduling; organic computing; multiobjective optimisation and decision making; optimisation in presence of uncertainty; simulation-based optimisation.
Teaching in 2020-2021
Business Analytics
IB9BS0: Supply Chain Analytics
Postgraduate Research Business and Management
IB9GF0: Recent Advances in Operational Research and Operations Management
Undergraduate
IB3520: Applied Optimization Methods
Biography
Previously senior scientist at Icosystem Inc, France and lecturer/senior lecturer at the University of Karlsruhe, Germany. Editor-in-Chief of ACM Transactions on Evolutionary Learning an Optimization, Area Editor for the Journal of Heuristics, Associate Editor for IEEE Transactions on Evolutionary Computation and the Evolutionary Computation Journal. Programme Chair / Co-Chair of several conferences (e.g., Genetic and Evolutionary Computation Conference 2010, Parallel Problem Solving from Nature 2014) and tracks at conferenes (e.g., EURO 2016, Genetic and Evolutionary Computation Conference 2017 and 2013, Learning in Intelligent Optimization 2013). Member of INFORMS, OR Society, ACM, IEEE.
Publications
Journal Articles
Yazdani, D., Cheng, R., Yazdani, D., Branke, J., Jin, Y. and Yao, X. (2021) "A survey of evolutionary continuous dynamic optimization over two decades – part A", IEEE Transactions on Evolutionary Computation
Yazdani, D., Cheng, R., Yazdani, D., Branke, J., Jin, Y. and Yao, X. (2021) "A survey of evolutionary continuous dynamic optimization over two decades – part B", IEEE Transactions on Evolutionary Computation
Demirbilek, M., Branke, J. and Strauss, A. (2021) "Home healthcare routing and scheduling of multiple nurses in a dynamic environment", Flexible Services and Manufacturing Journal, 33, 253-280
Yazdani, D., Omidvar, M. N., Cheng, R., Branke, J., Nguyen, T. T. and Yao, X. (2020) "Benchmarking continuous dynamic optimization : survey and generalized test suite", IEEE Transactions on Cybernetics
Wang, C., Ma, H., Chen, G., Hartmann, S. and Branke, J. (2020) "Robustness estimation and optimisation for semantic web service composition with stochastic service failures", IEEE Transactions on Emerging Topics in Computational Intelligence, 1-16
Yazdani, D., Cheng, R. and Branke, J. (2020) "Adaptive control of sub-populations in evolutionary dynamic optimization", IEEE Transactions on Cybernetics
Gökalp, E. and Branke, J. (2020) "Pharmaceutical R & D pipeline management under trial duration uncertainty", Computers & Chemical Engineering, 106782
MacLachlan, J., Mei, Y., Branke, J. and Zhang, M. (2020) "Genetic programming hyper-heuristic with vehicle collaboration for uncertain capacitated arc routing problem", Evolutionary Computation, 28, 4, 563-593
Yazdani, D., Omidvar, N., Branke, J., Nguyen, T. T. and Yao, X. (2020) "Scaling up dynamic optimization problems : a divide-and-conquer approach", IEEE Transactions on Evolutionary Computation, 24, 1, 1-15
Demirbilek, M., Branke, J. and Strauss, A. (2019) "Dynamically accepting and scheduling patients for home healthcare", Health Care Management Science, 22, 1, 140-155
Fei, X., Branke, J. and Gülpinar, N. (2019) "New sampling strategies when searching for robust solutions", IEEE Transactions on Evolutionary Computation, 23, 2, 273-287
Oyebolu, F. B., Allmendinger, R., Farid, S. S. and Branke, J. (2019) "Dynamic scheduling of multi-product continuous biopharmaceutical facilities : a hyper-heuristic framework", Computers & Chemical Engineering, 125, 71-88
Groves, M. J. and Branke, J. (2019) "Top-k selection with pairwise comparisons", European Journal of Operational Research, 274, 2, 615-626
Fei, X., Gulpinar, N. and Branke, J. (2019) "Efficient solution selection for two-stage stochastic programs", European Journal of Operational Research, 277, 3, 918-929
Yazdani, D., Nguyen, T. T. and Branke, J. (2019) "Robust optimization over time by learning problem space characteristics", IEEE Transactions on Evolutionary Computation, 23, 1, 143-155
Branke, J. and Zhang, W. (2019) "Identifying efficient solutions via simulation : myopic multi-objective budget allocation for the bi-objective case", OR Spectrum, 41, 831-865
van Lon, R. R. S., Branke, J. and Holvoet, T. (2018) "Optimizing agents with genetic programming : an evaluation of hyper-heuristics in dynamic real-time logistics", Genetic Programming and Evolvable Machines, 19, 1-2, 93-120
Ball, R., Branke, J. and Meisel, S. (2018) "Optimal sampling for simulated annealing under noise ", INFORMS Journal on Computing, 30, 1, 200-215
Pearce, M. and Branke, J. (2018) "Continuous multi-task Bayesian optimisation with correlation", European Journal of Operational Research, 270, 3, 1074-1085
Miranda, D. M., Branke, J. and Conceição, S. V. (2018) "Algorithms for the multi-objective vehicle routing problem with hard time windows and stochastic travel time and service time", Applied Soft Computing, 70, 66-79
Gülpinar, N., Çanakoğlu, E. and Branke, J. (2018) "Heuristics for the stochastic dynamic task-resource allocation problem with retry opportunities", European Journal of Operational Research, 266, 1, 291-303
Oyebolu, F. B., Van Lidth de Jeude, J., Siganporia, C., Farid, S. S., Allmendinger, R. and Branke, J. (2017) "A new lot sizing and scheduling heuristic for multi-site biopharmaceutical production", Journal of Heuristics, 23, 4, 231-256
Branke, J., Corrente, S., Greco, S. and Gutjahr, W. (2017) "Efficient pairwise preference elicitation allowing for indifference ", Computers & Operations Research, 88, 175-186
Branke, J., Asafuddoula, M., Bhattacharjee, K. S. and Ray, T. (2017) "Efficient use of partially converged simulations in evolutionary optimization ", IEEE Transactions on Evolutionary Computation, 21, 1, 52-64
Heger, J., Branke, J., Hildebrandt, T. and Scholz-Reiter, B. (2016) "Dynamic adjustment of dispatching rule parameters in flow shops with sequence dependent setup times", International Journal of Production Research , 54, 22, 6812-6824
Branke, J., Corrente, S., Greco, S., Słowiński, R. and Zielniewicz, P. (2016) "Using Choquet integral as preference model in interactive evolutionary multiobjective optimization", European Journal of Operational Research, 250, 3, 884-901
Branke, J., Farid, S. S. and Shah, N. (2016) "Industry 4.0 : a vision for personalized medicine supply chains?", Cell and Gene Therapy Insights, 2, 2, 263-270
Branke, J., Nguyen, S., Pickardt, C. W. and Zhang, M. (2016) "Automated design of production scheduling heuristics : a review", IEEE Transactions on Evolutionary Computation, 20, 1, 110-124
LaPorte, G. J., Branke, J. and Chen, C. (2015) "Adaptive parent population sizing in evolution strategies", Evolutionary Computation, 23, 3, 397-420
Morales-Enciso, S. and Branke, J. (2015) "Tracking global optima in dynamic environments with efficient global optimization", European Journal of Operational Research, 242, 3, 744-755
Hildebrandt, T. and Branke, J. (2015) "On using surrogates with genetic programming", Evolutionary Computation, 23, 3, 343-367
Branke, J., Hildebrandt, T. and Scholz-Reiter, B. (2015) "Hyper-heuristic evolution of dispatching rules : a comparison of rule representations", Evolutionary Computation, Volume 23, Number 2, 249-277
Branke, J., Greco, S., Slowinski, R. and Zielniewicz, P. (2015) "Learning value functions in interactive evolutionary multiobjective optimization", IEEE Transactions on Evolutionary Computation, 19, 1, 88-102
Helwig, S., Branke, J. and Mostaghim, S. (2013) "Experimental analysis of bound handling techniques in particle swarm optimization", IEEE Transactions on Evolutionary Computation, Volume 17, Number 2, 259-271
Pickardt, C. W., Hildebrandt, T., Branke, J., Heger, J. and Scholz-Reiter, B. (2013) "Evolutionary generation of dispatching rule sets for complex dynamic scheduling problems", International Journal of Production Economics, Volume 145, Number 1, 67-77
Pickardt, C. W. and Branke, J. (2012) "Setup-oriented dispatching rules – a survey", International Journal of Production Research , Vol.50, No.20, 5823-5842
Nguyen, T. T., Yang, S. and Branke, J. (2012) "Evolutionary dynamic optimization : a survey of the state of the art", Swarm and Evolutionary Computation, Volume 6, 1-24
Branke, J. and Pickardt, C. W. (2011) "Evolutionary search for difficult problem instances to support the design of job shop dispatching rules", European Journal of Operational Research, Vol.212, No.1, 22-32
Chick, S. E., Branke, J. and Schmidt, C. (2010) "Sequential sampling to myopically maximize the expected value of information", INFORMS Journal on Computing, 22, 1, 71-80
Deb, K., Gupta, S., Daum, D., Branke, J., Mall, A. K. and Padmanabhan, D. (2009) "Reliability-based optimization using evolutionary algorithms", IEEE Transactions on Evolutionary Computation, Vol.13, No.5, 1054-1074
Paenke, I., Jin, Y. and Branke, J. (2009) "Balancing population- and individual-level adaptation in changing environments", Adaptive Behaviour, Vol.17, No.2, 153-174
Branke, J., Scheckenbach, B., Steinke, M., Deb, K. and Schmeck, H. (2009) "Portfolio optimization with an envelope-based multi-objective evolutionary algorithm", European Journal of Operational Research, 199, 3, 684-693
Prothmann, H., Branke, J., Schmeck, H., Tomforde, S., Rochner, F., Hahner, J. and Schloer, C. M. (2009) "Organic traffic light control for urban road networks", International Journal of Autonomous and Adaptive Communications Systems, Vol.2, No.3, 203-225
Stein, M., Branke, J. and Schmeck, H. (2008) "Efficient implementation of an active set algorithm for large-scale portfolio selection", Computers & Operations Research, Vol.35, No.12, 3945-3961
Branke, J., Meisel, S. and Schmidt, C. (2008) "Simulated annealing in the presence of noise", Journal of Heuristics, Vol.14, No.6, 627-654
Book Items
Book