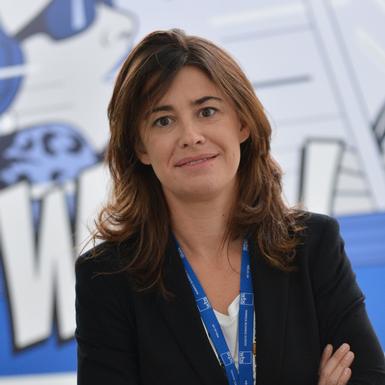 Research Interests
I am interested in the evolution of cooperation and in particular the psychological mechanisms supporting human cooperative and prosocial interactions. Which psychological traits underlying the cooperative relationships of humans are uniquely human and which traits do we share with other apes? To what extent are cooperative skills dependent on sophisticated communicative skills (e.g. language) and moral education? Although all human societies are based on cooperative interactions, cooperation is difficult and can break down easily, so what promotes and helps to stabilize coordination and cooperation between individuals?
Teaching in 2017-2018
Executive MBA
IB9CV5: Leading for Innovation
MSc Business
IB9BD0: Behavioural Economics
Marketing & Strategy
IB9BN0: Advanced Leadership
Undergraduate
IB3J00: Behavioural Economics
IB2580: Foundations of Human Sociality and Cooperation
IB3H80: Leadership
Biography
Alicia Melis is Assistant Professor in the Behavioural Science Group at Warwick Business School. Prior to joining Warwick Business School she was a postdoctoral researcher at the Department of Developmental and Comparative Psychology at the Max Planck Institute for Evolutionary Anthropology (Leipzig ). She studied Biology at the Freie University of Berlin and received her PhD in Psychology from the University of Leipzig under the supervision of Michael Tomasello, Brian Hare and Josep Call. She investigates the phylogenetic roots and the development of human cooperative and prosocial behavior. She conducts studies with humans (mainly young children) and chimpanzees in African sanctuaries.
Publications
Journal Articles
Melis, A. P., Engelmann, J. M. and Warneken, F. (2018) "Correspondence : Chimpanzee helping is real, not a byproduct", Nature Communications, 9, 615
John, M., Melis, A. P., Read, D., Rossano, F. and Tomasello, M. (2018) "The preference for scarcity : a developmental and comparative perspective", Psychology & Marketing
Alicia P. Melis (2017) "The evolutionary roots of prosociality : the case of instrumental helping", Current Opinion in Psychology
Melis, A. P., Grocke, P., Kalbitz, J. and Tomasello, M. (2016) "One for you, one for me : humans' unique turn-taking skills ", Psychological Science, 27, 7, 987-996
Melis, A. P. and Warneken, F. (2016) "The psychology of cooperation : insights from chimpanzees and children ", Evolutionary Anthropology, 25, 6, 297-305
Melis, A., Anja, F. and Tomasello, M. (2015) "Non-Egalitarian allocations among preschool peers in a face-to-face bargaining task", PLoS One, 10, 3, e0120494
Bullinger, A. F., Melis, A. P. and Tomasello, M. (2014) "Chimpanzees (Pan troglodytes) instrumentally help but do not communicate in a mutualistic cooperative task", Journal of Comparative Psychology, Volume 128, Number 3, 251-260
Alicia P. Melis (2013) "The evolutionary roots of human collaboration : coordination and sharing of resources", Annals of the New York Academy of Sciences, Volume 1299, 68-76
Melis, A. P. and Tomasello, M. (2013) "Chimpanzees' (Pan troglodytes) strategic helping in a collaborative task", Biology Letters, Volume 9, Number 2, Article number 20130009
Bullinger, A. F., Burkart, J. M., Melis, A. P. and Tomasello, M. (2013) "Bonobos, Pan paniscus, chimpanzees, Pan troglodytes, and marmosets, Callithrix jacchus, prefer to feed alone", Animal Behaviour, Volume 85, Number 1, 51-60
Melis, A. P., Altrichter, K. and Tomasello, M. (2013) "Allocation of resources to collaborators and free-riders in 3-year-olds", Journal of Experimental Child Psychology, Volume 114, Number 2, 364-370
Alicia P. Melis (2013) "The evolutionary roots of human collaboration : coordination and sharing of resources", Annals of the New York Academy of Sciences, Volume 1299, 68-76
Schneider, A., Melis, A. P. and Tomasello, M. (2012) "How chimpanzees solve collective action problems", Proceedings of the Royal Society B: Biological Sciences, Volume 279, Number 1749, 4946-4954
Tomasello, M., Melis, A. P., Tennie, C., Wyman, E. and Herrmann, E. (2012) "Two key steps in the evolution of human cooperation", Current Anthropology, Volume 53, Number 6, 673-692
Melis, A. P., Schneider, A. and Tomasello, M. (2011) "Chimpanzees, pan troglodytes, share food in the same way after collaborative and individual food acquisition", Animal Behaviour, Volume 82, Number 3, 485-493
Warneken, F., Lohse, K., Melis, A. P. and Tomasello, M. (2011) "Young children share the spoils after collaboration", Psychological Science, Volume 22, Number 2, 267-273
Melis, A. P. and Semmann, D. (2010) "How is human cooperation different?", Philosophical Transactions of the Royal Society B: Biological Sciences, Volume 365, Number 1553, 2663-2674
Melis, A. P., Call, J. and Tomasello, M. (2010) "36-month-olds conceal visual and auditory information from others", Developmental Science, Volume 13, Number 3, 479-489
Melis, A. P., Hare, B. and Tomasello, M. (2009) "Chimpanzees coordinate in a negotiation game", Evolution and Human Behavior, Volume 30, Number 6, 381-392
Melis, A. P., Hare, B. and Tomasello, M. (2008) "Do chimpanzees reciprocate received favours?", Animal Behaviour, 76, 3, 951-962