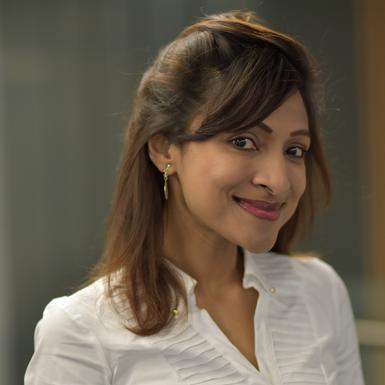 Research Interests
Dulini takes a socio cultural lens using career as a conceptual tool to examine highly skilled employees' experiences of work. She works with a range of theoretical frameworks including structuration theory, social constructionism, institutional work and Bourdieu's theory of practice.

To date she has studied highly skilled workers in developing economies, in public and private organisations, in academia, highly skilled migrants and highly skilled women workers aiming to answer the following questions:

1.What are the structural barriers and paradoxes highly skilled workers encounter in pursuing their careers in the rapidly changing world of work? How do they deal with these and with what implications for a fair world of work ?
2. What are the recipes for success in the rapidly marketizing workplace? To what extent are these socially and culturally mediated?

Teaching in 2018-2019
Human Resource Management & Employment Relations
IB96N0: Researching Human Resource Management and Employment Relations
MSc Business
IB9CF0: Research Methodology
Management
IB98R0: Leading and Managing Change
Postgraduate Research Business and Management
IB9GY0: Organization and Strategy
Undergraduate
IB3130: Business Studies I
IB3140: Business Studies II
IB1230: Foundations of Organisational Behaviour
Biography
Dulini holds two BSc degrees from LSE and Lancaster University, a MSc from LSE and a PhD from Loughborough University. Dulini serves as an adhoc reviewer for a number of organisation and management journals.


Publications
Journal Articles
Fernando, D., Cohen, L. and Duberley, J. (2018) "What helps? Women engineers' accounts of staying on", Human Resource Management Journal
Dulini Fernando (2018) "Exploring character in the new capitalism : a study of mid-level academics' in a British research-intensive university", Studies in Higher Education, 43, 6, 1045-1057
Fernando, W. D. A., Cohen, L. and Duberley, J. (2018) "Navigating sexualised visibility : a study of British women engineers", Journal of Vocational Behavior
Fernando, W. D. A. and Kenny, E. (2018) "Navigating panethnic categorisation in the workplace : a study of British Sri Lankan employees", Journal of Occupational and Organizational Psychology
Croft, C. and Fernando, W. D. A. (2018) "The competing influences of national identity on the negotiation of ideal worker expectations : insights from the Sri Lankan knowledge work industry", Human Relations, 71, 8, 1096-1119
Fernando, W. D. A., Cohen, L. and Duberley, J. (2018) "What managers can do to keep women in engineering ", Harvard Business Review
Fernando, W. D. A. and Prasad, A. (2018) "How third parties encourage women to stay silent about sex-based harassment ", Harvard Business Review
Dulini Fernando (2017) "Advancing interests through informal voice : a study of professional workers in Sri Lanka's knowledge outsourcing sector", Human Resource Management Journal
Fernando, W. D. A. and Cohen, L. (2016) "Poachers and gamekeepers : processes of class-based organizational closure and usurpation in Sri Lanka's emerging private sector", The International Journal of Human Resource Management, 28, 15, 2184-2207
Fernando, W. D. A. and Cohen, L. (2015) "Exploring career advantages of highly skilled migrants : a study of Indian academics in the UK", The International Journal of Human Resource Management, 27, 12, 1277-1298
Fernando, W. D. A. and Cohen, L. (2014) "Respectable femininity and career agency : exploring paradoxical imperatives", Gender, Work & Organization, Volume 21, Number 2, 149-164
Fernando, W. D. A. and Cohen, L. (2013) "Exploring the interplay between Buddhism and career development : a study of highly skilled women workers in Sri Lanka", Work, Employment & Society, Volulme 27, Number 6, 1021-1038
Fernando, W. D. A. and Cohen, L. (2013) "The rhetoric and reality of home–work harmonization : a study of highly skilled Sri Lankan women from public and private sector organizations", The International Journal of Human Resource Management, 24, 15, 2876-2893
Dulini Fernando (2012) "A social constructionist perspective of gender stereotyping at work", Gender in Management: An International Journal, 27, 7, 463-481
Fernando, W. D. A. and Cohen, L. (2011) "Exploring the interplay between gender, organizational context and career", Career Development International, 16, 6, 553-571