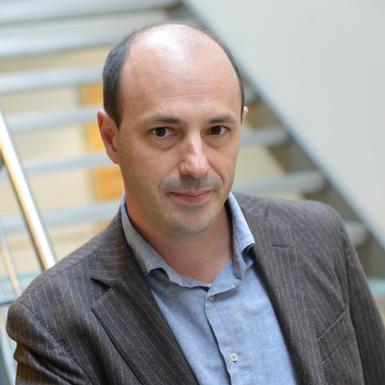 Research Interests
European integration and industrial relations, including multinational companies and migration. Currently comparing industrial relations and internationalisation in the six largest EU countries, studying active inclusion labour market policies, and investigating the under-representation of vulnerable groups in the labour market.
Teaching in 2018-2019
Human Resource Management & Employment Relations
IB96L0: Comparative Employment Relations
IB9DP0: Global and European Governance of Employment Relations
International Business
IB9DQT: Work and Human Resources in Global Context
Postgraduate Research Business and Management
IB9GY0: Organization and Strategy
Undergraduate
IB2490: Global Environment of Business
IB3E10: Globalisation and Work
IB3860: International Business in Context
IB4050: International Perspectives in Business , Management and Society
IB3900: Year Abroad Portfolio
Biography
Guglielmo Meardi arrived to Warwick in 1999, after studying in Italy, France and Poland. He has held visiting positions at the Hungarian, Polish and Slovenian Academies of Sciences, and at universities in Belgium, Canada, France, Germany, Italy, Poland and Spain. He is Associate Editor of the "European Journal of Industrial Relations". He led the organisation of the Work, Employment and Society Conference at Warwick in 2013.
Publications
Journal Articles
Baccaro, L., Benassi, C. and Meardi, G. (2019) "Theoretical and empirical links between trade unions and democracy", Economic and Industrial Democracy, 40, 1, 3-19
Ram, M., Edwards, P., Meardi, G., Jones, T. and Doldor, S. (2019) "The roots of informal responses to regulatory change : non‐compliant small firms and the National Living Wage ", British Journal of Management
Guglielmo Meardi (2018) "Economic integration and state responses : change in European industrial relations since Maastricht ", British Journal of Industrial Relations, 56, 3, 631-655
Meardi, G., Arnholtz, J. and Oldervoll, J. (2018) "Collective wage bargaining under strain in northern European construction : resisting institutional drift?", European Journal of Industrial Relations
Dølvik, J. E., Marginson, P., Alsos, K., Arnholtz, J., Meardi, G., Müller, T. and Trygstad, S. (2018) "Collective wage regulation in northern Europe under strain : multiple drivers of change and differing responses", European Journal of Industrial Relations, 24, 4, 321-339
Meardi, G., Donaghey, J. and Dean, D. (2016) "The strange non-retreat of the state : implications for the sociology of work", Work, Employment And Society, 30, 4, 559-572
Meardi, G., Gardawski, J. and Molina Romo, O. (2015) "The dynamics of tripartism in post-democratic transitions : comparative lessons from Spain and Poland", Business history, 57, 3, 398-417
Pulignano, V., Meardi, G. and Doerflinger, N. (2015) "Trade unions and labour market dualisation : a comparison of policies and attitudes towards agency and migrant workers in Germany and Belgium", Work, Employment & Society, 29, 5, 808-825
Lozano, M., Meardi, G. and Martin-Artiles, A. (2015) "International recruitment of health workers : British lessons for Europe? : emerging concerns and future research recommendations", International journal of health services, Volume 45, Number 2, 306-319
Artiles, A. M. and Meardi, G. (2014) "Public opinion, immigration and welfare in the context of uncertainty", Transfer: European review of labour and research, Volume 20, Number 1, 53-68
Meardi, G. and Marginson, P. (2014) "Global labour governance : potential and limits of an emerging perspective", Work, Employment & Society, Volume 28, Number 4, 651-662
Guglielmo Meardi (2014) "The (claimed) growing irrelevance of employment relations", Journal of Industrial Relations, Volume 56, Number 4, 594-605
Meardi, G., Strohmer, S. and Traxler, F. (2013) "Race to the East, race to the bottom? Multinationals and industrial relations in two sectors in the Czech Republic", Work, Employment & Society, 27, 1, 39-55
Meardi, G. and Trappmann, V. (2013) "Between consolidation and crisis : divergent pressures and sectoral trends in Poland", Transfer: European review of labour and research, Volume 19, Number 2, 195-204
Meardi, G., Martín, A. and Riera, M. L. (2012) "Constructing uncertainty : unions and migrant labour in construction in Spain and the UK", Journal of Industrial Relations, Vol.54, No.1, 5-21
Guglielmo Meardi (2012) "Union immobility? Trade unions and the freedoms of movement in the enlarged EU", British Journal of Industrial Relations, Vol.50, No.1, 99-120
Bechter, B., Brandl, B. and Meardi, G. (2012) "Sectors or countries? : typologies and levels of analysis in comparative industrial relations", European Journal of Industrial Relations, Vol.18, No.3, 185-202
Guglielmo Meardi (2011) "Flexicurity meets state traditions", The International Journal of Comparative Labour Law and Industrial Relations, Vol.27, No.3, 255-269
Bechter, B., Brandl, B. and Meardi, G. (2011) "Die Bestimmungsgründe der (Re-)Sektoralisierung der industriellen Beziehungen in der Europäischen Union", Industrielle Beziehungen , Vol.18, No.3, 143-166
Guglielmo Meardi (2011) "Understanding trade union culture", Industrielle Beziehungen , Vol.18, No.4, 336-345
Meardi, G., Marginson, P., Fichter, M., Frybes, M., Stanojevic, M. and Toth, A. (2009) "Varieties of multinationals: adapting employment practices in central eastern Europe", Industrial Relations, Vol.48, No.3, 489-511
Meardi, G., Marginson, P., Fichter, M., Frybes, M., Stanojevic, M. and Toth, A. (2009) "The complexity of relocation and the diversity of trade union responses: efficiency-oriented foreign direct investment in central Europe", European Journal of Industrial Relations, Vol.15, No.1, 27-47
Guglielmo Meardi (2008) "Multinationals in the new EU member states and the revitalisation of trade unions", Debatte: Journal of Contemporary Central and Eastern Europe, 15, 2, 177-193
Guglielmo Meardi (2007) "Restructuring in an enlarged Europe : challenges and experiences", Transfer: European review of labour and research, 13, 2, 253-266
Guglielmo Meardi (2007) "More voice after more exit? Unstable industrial relations in Central Eastern Europe", Industrial Relations Journal, 38, 6, 503-523
Guglielmo Meardi (2007) "The Polish plumber in the West Midlands : rheoretical and empirical issues", Review of Sociology of the Hungarian Sociological Association, 13, 2, 39-56
Guglielmo Meardi (2007) "The legacy of 'Solidarity' : class, democracy, culture and subjectivity in the Polish social movement", Social Movement Studies, 4, 3, 261-280
Guglielmo Meardi (2006) "Social pacts on the road to EMU: A comparison of the Italian and Polish experiences", Economic and Industrial Democracy, Vol.27, No.2, 197-222
Marginson, P. and Meardi, G. (2006) "European Union enlargement and the foreign direct investment channel of industrial relations transfer", Industrial Relations Journal, 37, 2, 92-110
Guglielmo Meardi (2004) "Short circuits in multinational companies : the extension of European Works Councils to Poland", European Journal of Industrial Relations, 10, 2, 161-178
Guglielmo Meardi (2004) "Modelli o stili di sindacalismo in Europa?", Stato e Mercato, 71, 207-236, 14632
Guglielmo Meardi (2002) "The trojan horse for the Americanization of Europe? Polish industrial relations towards the EU", European Journal of Industrial Relations, 8, 1, 77-99
Guglielmo Meardi (1996) "Trade Union Consciousness, East and West : A Comparison of Fiat Factories in Poland and Italy", European Journal of Industrial Relations, 2, 3, 275-302
Journal Item
Book Reviews
Guglielmo Meardi (2011) "Review of One company, diverse workplaces : the social construction of employment practices in Western and Eastern Europe, by Kahancová, M.", Sociologicky Casopis, Vol.47, No.3, 593-596
Guglielmo Meardi (2009) "Review of Labour relations in central Europe. The impact of multinationals' money, by Tholen, J. with Cziria, L., et al.", British Journal of Industrial Relations, Vol.47, No.1, 196-198
Book Items
Meardi, G., Martín, A. and Van den Berg, A. (2016) "A Canadian immigration model for Europe? : Labour market uncertainty and migration policy in Canada, Germany and Spain.", Comparative Social Research, 32, 99-124, Emerald Group Publishing Ltd.,
Guglielmo Meardi (2012) "Industrial relations after European state traditions?", 100-123, Edward Elgar, Cheltenham
Guglielmo Meardi (2011) "Labour mobility, union immobility? Trade Unions and migration in the EU", 77-97, Peter Lang, Frankfurt am Main
Meardi, G., Strohmer, S. and Traxler, F. (2011) "MNC social transfers to CEE : British, US, Austrian and German experiences reviewed", 29-44, Palgrave Macmillan, Basingstoke ; New York
Marginson, P. and Meardi, G. (2010) "Multinational companies : transforming national industrial relations? ", 207-230, John Wiley & Sons, Chichester, West Sussex, U.K
Guglielmo Meardi (2010) "Lights and shadows of employee participation in the new EU member states", 211-221, Peter Lang, Frankfurt am Main
Gardawski, J. and Meardi, G. (2010) "Keep trying? Polish failures and half-successes in social pacting", 371-394, ETUI, Brussels
Guglielmo Meardi (2009) " A suspended status : the puzzle of Polish workers in the West Midlands", 102-122, Edward Elgar, Cheltenham
Meardi, G. and Fichter, M. (2008) "Production relocation. Impacts on home, host and cross-border industrial relations", No.63, 135-156, P.I.E. Peter Lang, Brussels ; New York
Books
Burroni, L., Keune, M. and Meardi, G. (2012) "Economy and society in Europe : a relationship in crisis", Edward Elgar Publishing Limited, Cheltenham . 9781849803656
Guglielmo Meardi (2012) "Social failures of EU enlargement : a case of workers voting with their feet", No.25, Routledge, New York. 9780415806794
Guglielmo Meardi (2000) "Trade union activists, east and west : comparisons in multinational companies", Routledge, Abington, Oxford. 9781138736535
Report