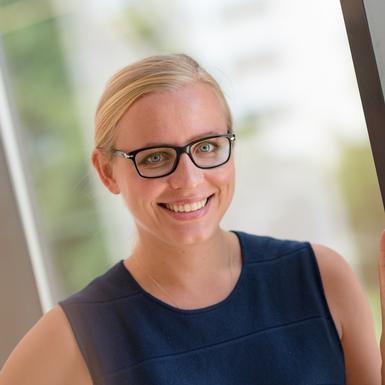 Research Interests
Mareike's research sits at the cross section of information systems management, marketing (online consumer behaviour), and management. Her research focuses on the sharing economy, platforms, digital trust, algorithmic management, entrepreneurship, and new ways of working in the digital age. Among others, she has worked with data from users/stakeholders of car2go, Airbnb, Uber, and BlaBlaCar.

Keywords: Algorithmic management, platforms, sharing economy, gig economy, digital trust, reputation systems, online consumer behaviour, experimental studies, structural-equation modelling, quantitative and qualitative research, mixed methods, data science.
Teaching in 2019-2020
MSc Business
IB961B: Digital Marketing Technology and Management
Management of Information Systems & Digital Innovation
IB9610: Digital Marketing Technology and Management
Undergraduate
IB2630: Design Thinking for Digital Innovation
Biography

Mareike Möhlmann is Assistant Professor of Information Systems & Management at Warwick Business School. In 2018 and 2019 she was a visiting scholar/teaching fellow at the London School of Economics. Previously she worked as a postdoctoral researcher at the Stern School of Business, New York University, USA.

She received her doctoral degree in Business Administration/Management at the University of Hamburg, Germany. Mareike holds a M.Sc. in Management from the London School of Economics, UK. Before starting her career in academia she worked in international governance (climate change/sustainability) for the United Nations (UNEP) in New York.

In February 2019 she received an offer for a W2 professorship at TU Berlin (fixed term). She will start a new position as Assistant Professor at Bentley University in the US in Summer 2020.

Her work and comments have been featured in media outlets such as The Times, The Telegraph, the Financial Times, the BBC, the World Economic Forum, The Independent, The Conversation, and many more. Alone in 2017, her research about 'Uber drivers gaming the algorithm' was covered on the front page of the UK Times (print version) and in more than 200 press outlets worldwide.

She has published in a number of conference proceedings (AOM, ICIS, HICSS, etc.). ICIS publications include papers focusing on "algorithmic management and Uber drivers' autonomy" (2017 with L. Zalmanson) and an "experimental approach to trust in the sharing economy" (2016 with F. Hawlitschek, T. Teubner, M. Adam, N. S. Borchers, and C. Weinhardt). HICSS publications include work on "trust misspecifications" (2018 with Sirkka L. Jarvenpaa). In 2015, she published a paper that generated more than 600 google scholar citations in just 4 years.

She received the WBS Award for Outstanding Contribution to Teaching 2018-2019. She teaches courses such as "Design Thinking for Digital Innovation" and "Quant. Research Methods" to undergraduate and graduate students, supervises several PHD students, and teaches "Business Analytics" on the Warwick Executive Diploma in Digital Leadership.

In the past, she took over a number of service roles in the ISM community, including acting as a co-mini-track chair at HICSS conference in 2019 and 2020, a member of the scientific committee of reshape work conference on the "gig economy" (2019), and a program committee member for the Pre-ICIS workshop on the "changing nature of work" (2018 and 2019). She regularly acts as an AE for ICIS, AOM, ECIS, and HICSS conferences and as a reviewer for top journals in ISM.

Find more information about current academic projects, conference publications, industry reports, and media coverage on her personal website: www.mareikemoehlmann.com
Publications
Journal Articles
Journal Item
Book Items
Ozcan, P., Gurses, K. and Mohlmann, M. (2020) "Category kings and commoners : within and across cross-category spillovers in the sharing economy", Research in the Sociology of Organizations , 66, 163-185, Emerald Group Publishing Ltd.,
Mohlmann, M., Teubner, T. and Graul, A. (2019) "Leveraging trust on sharing economy platforms : reputation systems, blockchain technology, and cryptocurrencies",,
Möhlmann, M. and Geissinger, A. (2018) "Trust in the sharing economy : platform-mediated peer trust", Cambridge University Press, Cambridge
Report
Ozcan, P., Möhlmann, M. and Krishnamoorthy, C. (2018) "Who shares and who doesn't? Results of the UK Sharing Economy Consumer Survey 2017"