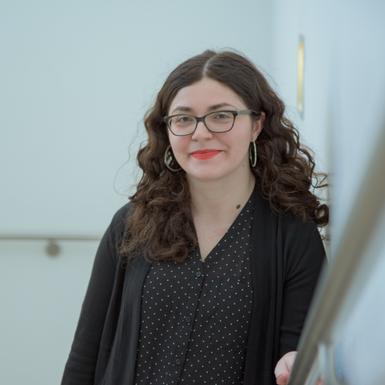 Research Interests
European integration and multi-level governance of employment relations; labour administration; gender and employment relations.
Teaching in 2019-2020
Undergraduate
IB4090: Business and Society in Contemporary Germany
IB4050: International Perspectives in Business , Management and Society
Biography
Prior to joining WBS as a Research Fellow in the Industrial Relations Research Unit in January 2019, Maria was a Research Associate in the Work, Organisation & Employment Relations Research Centre at Sheffield University Management School. There, she worked with Jason Heyes on an interdisciplinary research project which analysed the organisation and evolution of labour administration in Europe in comparative perspective, considering also the impacts of the 2008 crisis.

Maria completed her PhD in Economics at the University of Leeds in 2018. Her research analysed the contested role of Germany in the European Economic and Monetary Union, with a focus on the German model as a dialectical relationship between Germany's domestic economy and the supranational framework of which it is part. Maria also holds an MSc in Economics and a BA (Joint Honours) degree in Economics and Politics, both from the University of Leeds.


Publications
Journal Articles
Gavris, M. and Heyes, J. (2019) "Varieties of Labour administration in Europe and the consequences of the Great Recession", Economic and Industrial Democracy
Bailey, D., Coffey, D., Gavris, M. and Thornley, C. (2019) "Industrial policy, place and democracy", Cambridge Journal of Regions, Economy and Society, rsz010
Maria Gavris (2019) "Revisiting the fallacies in Hegemonic Stability Theory in light of the 2007-2008 crisis : the theory's hollow conceptualization of hegemony", Review of International Political Economy