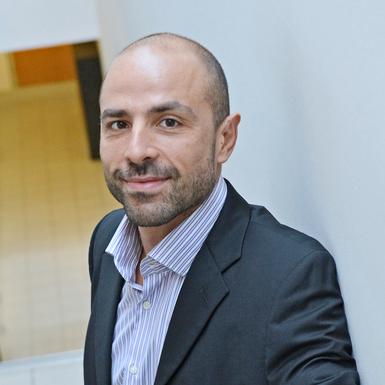 Research Interests
Digital infrastructures and platforms; digital entrepreneurship and innovation; online labor platforms for new collar workers; and the transformative effects of artificial intelligence.

More information can be found at www.pconstantinides.org
Teaching in 2019-2020
Distance Learning MBA
IB830P: Strategic Global Outsourcing and Offshoring
Management of Information Systems & Digital Innovation
IB96E0: Digital Business Strategy
Biography
Panos Constantinides is an Associate Professor of Digital Innovation at the Warwick Business School, Academic Director of the AI Innovation Network and Fellow of the Cambridge Digital Innovation research centre. Previously, he held positions at the Department of Organisation, Work & Technology at Lancaster University's Management School (LUMS), and the Judge Business School at the University of Cambridge, where he also earned his PhD.

Panos' research focuses on the transformative potential of digital technology, including digital platforms, infrastructures and artificial intelligence. He has carried out funded research projects with a range of organizations on digital innovations, ranging from digital applications in healthcare, mobile payment platforms, and smart grids. Panos' research has been published in world-elite journals such as Information Systems Research, MIS Quarterly, the Journal of the Association of Information Systems and Organisation Studies. Panos' research has also appeared in The Guardian, The Conversation, CBS News, Raconteur and ZDnet among others.

In terms of internal service, Panos has served as Director of the MSc in Management Information Systems and Digital Innovation, and PhD Director for the Information Systems and Management Group, both at WBS. He has led the launch of an Artificial Intelligence Innovation Network (AIIN), based at WBS, but spanning departments across the University of Warwick, including Computer Science and the Medical School. He has also co-organized a number of Digital Health events. Together with the AIIN, these events have achieved significant outreach and engagement of senior practitioners and policy leaders embedded in the digital innovation ecosystem, as well as entrepreneurs, venture capitalists and academics.

In terms of external service, Panos currently serves as an Associate Editor at MIS Quarterly. He has also served as a guest Senior Editor for the ISR Special Issue on Platforms and Infrastructures in the Digital Age. Since 2010, he has also served as an Associate Editor for the International Conference of Information Systems and the annual meeting of the Academy of Management, in the Organizational, Communication & Information Systems (OCIS) division, among other conference roles. He has also served as External Examiner for Lancaster University and currently serves as an External Examiner for LSE's MSc in Management Information Systems and Digital Innovation.

Panos has received research, editorial and teaching awards, including the British Academy Rising Star Award for research contributions in digital infrastructures and platforms, the MISQ Outstanding Associate Editor award for 2017, and multiple WBS awards for teaching at the MSc and MBA programs.

Publications
Journal Articles
Rai, A., Constantinides, P. and Sarker, S. (2019) "Next generation digital platforms : toward human-AI hybrids", MIS Quarterly , 43, 1, iii-ix
Kwon, W. and Constantinides, P. (2018) "Ideology and moral reasoning : how wine was saved from the 19th century phylloxera epidemic", Organization Studies, 39, 8, 1031-1053
Constantinides, P., Henfridsson, O. and Parker, G. (2018) "Introduction—Platforms and infrastructures in the digital age ", Information Systems Research, 29, 2, 381-400
Constantinides, P. and Fitzmaurice, D. A. (2018) "Artificial intelligence in cardiology : applications, benefits and challenges", British Journal of Cardiology, 25, 3, 86-87
Bernardi, R., Constantinides, P. and Nandhakumar, J. (2016) "Challenging dominant frames in policies for IS innovation in healthcare through rhetorical strategies", Journal of the Association for Information Systems, 18, 2, 3
Kaniadakis, A. and Constantinides, P. (2014) "Innovating financial information infrastructures : the transition of legacy assets to the securitization market", Journal of the Association for Information Systems, 15, 5
Constantinides, P. and Barrett, M. (2014) "Information infrastructure development and governance as collective action", Information Systems Research, 26, 1, 40-56
Panos Constantinides (2013) "The failure of foresight in crisis management : a secondary analysis of the Mari disaster ", Technological Forecasting and Social Change , 80, 9, 1657-1673
Panos Constantinides (2013) "The communicative constitution of IT innovation", Information and Organization, 23, 4, 215-232
Constantinides, P. and Barrett, M. (2012) "A narrative networks approach to understanding coordination practices in emergency response", Information and Organization, Vol.22, No.4, 273-294
Panos Constantinides (2012) "The development and consequences of new information infrastructures : the case of mashup platforms", Media, Culture & Society, Vol.34, No.5, 606-622
Constantinides, P., Chiasson, P. and Introna, L. (2012) "The ends of information systems research : a pragmatic framework", MIS Quarterly, Vol.36, No.1, 1-10
Panos Constantinides (2011) "Accountability in IT-mediated cross-boundary work : insights from a longitudinal case study", Scandinavian Journal of Information Systems, Vol.24, No.1, Article no. 2
Panos Constantinides (2010) "Managing crises in the Healthcare Service Chain", International Journal of Information Systems for Crisis Response and Management, 2, 4, 33-47
Panos Constantinides (2006) "Large-scale ICT innovation, power, and organizational change : the case of a Regional Health Information Network", The Journal of Applied Behavioral Science, 42, 1, 76-90
Constantinides, P. and Barrett, M. (2006) "Negotiating ICT development and use : the case of a telemedicine system in the healthcare region of Crete", Information and Organization, 16, 1, 27-55
Book Items
Book