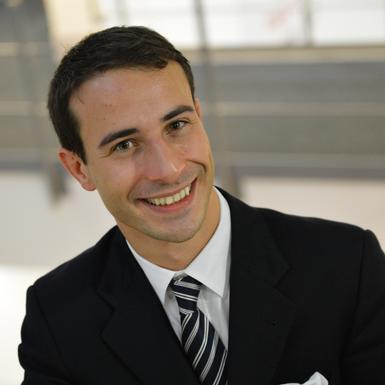 Research Interests
Neuroscience; Affect and Cognition; Knowledge-Intensive Work; Healthcare
Teaching in 2017-2018
Undergraduate
IB3J60: Neuroscience for Business and Social Studies
IB3H90: Strategic Games:Thinking rationally about business, policy and real life
Biography
Sebastiano Massaro is Assistant Professor of Behavioural Science at the Warwick Business School and the Deputy Lead of the Global Research Priority in Behavioural Science at Warwick University.

He is the inaugural PhD Graduate of the UCL School of Management and held visiting fellowships and positions at the London Business School, Boston University, and the Martinos Center for Biomedical Imaging. He also holds research degrees in Neuroscience summa cum laude from the University of Trieste and the International School of Advanced Studies (neurophysiology) as well as from the University of Edinburgh (neuroimaging).

His current research has appeared in leading journals and focuses on three core areas that converge his interdisciplinary expertise: neuroscience and behavioural science; affect and cognition; knowledge-intensive work and organizations in healthcare.

Sebastiano is an enthusiastic researcher as well as an award-winning and innovative educator. Recipient of an academic fellowship from the Institute for Advanced Teaching and Learning, at Warwick he leads an innovative module in neuroscience for business and social studies.
Publications
Journal Articles
Cropanzano, R. S., Massaro, S. and Becker, W. J. (2016) "Deontic justice and organizational neuroscience", Journal of Business Ethics
Massaro, S. and Pecchia, L. (2016) "Heart Rate Variability (HRV) analysis : a methodology for organizational neuroscience", Organizational Research Methods
Sebastiano Massaro (2015) "Neurofeedback in the workplace : from neurorehabilitation hope to neuroleadership hype?", International Journal Of Rehabilitation Research, 38, 3, 276-278
Sebastiano Massaro (2013) "Can WHO survive? : an organisational strategy question", The Lancet, 381, 9868, 726
Sebastiano Massaro (2012) "Managing knowledge-intensive workers", Nature Biotechnology, Volume 30, Number 7, 721-723
Quaroni, L., Zlateva, T., Bedolla, D., Massaro, S. and Torre, V. (2008) "Measurement of molecular orientation in a subcellular compartment by synchrotron infrared spectromicroscopy", ChemPhysChem, Volume 9, Number 10, 1380-1382, 13
Massaro, S., Zlateva, T., Torre, V. and Quaroni, L. (2007) "Detection of molecular processes in the intact retina by ATR-FTIR spectromicroscopy", Analytical and Bioanalytical Chemistry, Volume 390, Number 1, 317-322
Book Items
Massaro, S. and Becker, W. J. (2015) "Organizational justice through the window of neuroscience", 7, 257-276, Emerald Group Publishing Limited, Bingley, UK
Sebastiano Massaro (2015) "Neuroscientific methods for strategic management", 253-282, Routledge, Abingdon