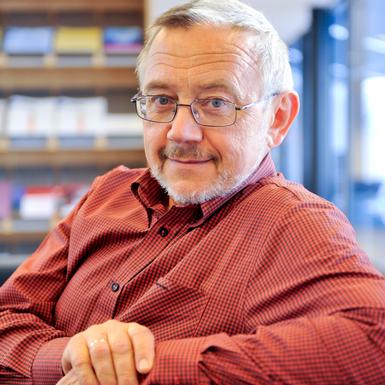 Research Interests
Algorithmic aspects of the problem solving process with the main focus on the analysis of efficiently solvable cases of hard optimisation problems such as travelling salesman problem and quadratic assignment problem; design and implementation of exact and approximate algorithms for combinatorial optimisation problems: vehicle routing problem, bin packing problem, network optimisation problems etc.
Teaching in 2021-2022
Business Analytics
IB93Y0: Dissertation
IB94Z0: Optimisation Models
Undergraduate
IB1040: Mathematical Programming I
Biography
Years of teaching experience in a variety of cultural environments; formerly associate professor at Dnepropetrovsk State University, Ukraine, and invited researcher at University of Technology, Graz, Austria. Participation in consultancy projects related to problem solving in industry, commerce, and the public sector.
Publications
Journal Articles
Cela, E., Deineko, V. G. and Woeginger, G. J. (2021) "Travelling salesman paths on Demidenko matrices ", Discrete Applied Mathematics
Cela, E., Deineko, V. G. and Woeginger, G. J. (2018) "New special cases of the quadratic assignment problem with diagonally structured coefficient matrices", European Journal of Operational Research, 267, 3, 818-834
Çela, E., Deineko, V. G. and Woeginger, G. J. (2017) "The multi-stripe travelling salesman problem ", Annals of Operations Research , 259, 1-2, 21-34
Çela, E., Deineko, V. G. and Woeginger, G. J. (2016) "Linearizable special cases of the QAP", Journal of Combinatorial Optimization, 31, 3, 1269-1279
Çela, E., Deineko, V. G. and Woeginger, G. J. (2015) "Well-solvable cases of the QAP with block-structured matrices", Discrete Applied Mathematics, Volume 186, 56-65
Deineko, V. G., Klinz, B., Tiskin, A. and Woeginger, G. J. (2014) "Four-point conditions for the TSP : the complete complexity classification", Discrete Optimization, Volume 14, 147-159
Deineko, V. G. and Woeginger, G. J. (2014) "Two hardness results for Gamson's game", Social Choice and Welfare, 43, 4, 963-972
Deineko, V. G. and Woeginger, G. J. (2013) "Two hardness results for core stability in hedonic coalition formation games", Discrete Applied Mathematics, Volume 161, Number 13-14, 1837-1842
Deineko, V. G., Klinz, B. and Woeginger, G. J. (2013) "Uniqueness in quadratic and hyperbolic 0–1 programming problems", Operations Research Letters, Volume 41, Number 6, 633-635
Deineko, V. G. and Woeginger, G. J. (2013) "Complexity and in-approximability of a selection problem in robust optimization", 4OR, 11, 3, 249-252
Çela, E., Deineko, V. G. and Woeginger, G. J. (2012) "The x-and-y-axes travelling salesman problem", European Journal of Operational Research, 223, 2, 333-345
Çela, E., Deineko, V. G. and Woeginger, G. J. (2012) "Another well-solvable case of the QAP : maximizing the job completion time variance", Operations Research Letters, Vol.40, No.5, 356-359
Deineko, V. G. and Woeginger, G. (2011) "Unbounded knapsack problems with arithmetic weight sequences", European Journal of Operational Research, Vol.213, No.2, 384-387
Deineko, V. G., Shabtay, D. and Steiner, G. (2011) "On the asymptotic behavior of subtour-patching heuristics in solving the TSP on permuted Monge matrices", Journal of Heuristics, 17, 1, 61-96
Deineko, V. G. and Woeginger, G. J. (2011) "A well-solvable special case of the bounded knapsack problem", Operations Research Letters, Vol.39, No.2, 118-120
Deineko, V. G. and Woeginger, G. J. (2010) "Pinpointing the complexity of the interval min-max regret knapsack problem", Discrete Optimization, Vol.7, No.4, 191-196
Deineko, V. G. and Woeginger, G. J. (2009) "A new family of scientific impact measures : the generalized Kosmulski-indices", Scientometrics, Vol.80, No.3, 819-826
Deineko, V. G., Klinz, B. and Woeginger, G. J. (2009) "Polygons with inscribed circles and prescribed side lengths", Applied Mathematics Letters, Vol.22, No.5, 704-706
Deineko, V. G., Klinz, B. and Woeginger, G. J. (2009) "The complexity of computing the Muirhead-Dalton distance", Mathematical Social Sciences, Vol.57, No.2, 282-284
Deineko, V. G. and Tiskin, A. (2009) "Fast minimum-weight double-tree shortcutting for metric TSP", Journal of Experimental Algorithmics, Vol.14, 4.6
Deineko, V. G. and Tiskin, A. (2009) "Min-weight double-tree shortcutting for metric TSP : bounding the approximation ratio", Electronic Notes in Discrete Mathematics, Volume 32, 19-26
Deineko, V. G., Jonsson, P., Klasson, M. and Krokhin, A. (2008) "The approximability of MAX CSP with fixed-value constraints", Association for Computing Machinery Journal, Vol.55, No.4
Deineko, V. G. and Woeginger, G. J. (2006) "Well-solvable instances for the partition problem", APPLIED MATHEMATICS LETTERS, 19, 10, 1053-1056
Deineko, V. G. and Woeginger, G. J. (2006) "On the robust assignment problem under a fixed number of cost scenarios", Operations Research Letters, Vol.34, No.2, 175-179
Deineko, V. G., van der Veen, J. A., Rudolf, R. and Woeginger, G. J. (1997) "Three easy special cases of the euclidean travelling salesman problem", RAIRO - Operations Research, 31, 4, 343-362
Deineko, V. G., Rudolf, R. and Woeginger, G. J. (1996) "On the recognition of permuted Supnick and incomplete Monge matrices", ACTA Informatica, 33, 6, 559-569
Deineko, V. G. and Woeginger, G. J. (1996) "The Convex-hull-and-k-line Travelling Salesman Problem", Information Processing Letters, 59, 6, 295-301
Book Items
Deineko, V. G. and Woeginger, G. J. (2014) "Another look at the shoelace TSP : the case of very old shoes", Fun with Algorithms, Volume 8496, 125-126, Springer, Berlin Heidelberg
Deineko, V. G. and Tiskin, A. (2007) "Fast minimum-weight double-tree shortcutting for metric TSP", Experimental Algorithms, Proceedings, Volume 4525, 136-149, Springer Berlin Heidelberg,
Deineko, V. and Tiskin, A. (2006) "One-sided monge TSP is NP-Hard", Volume 3982, 793-801, Springer,