An Insight into Warwick Business School's Foundation Year
03 April 2018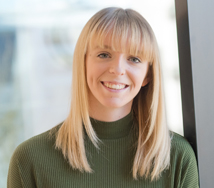 In this blog, we talk to Jessica Elvidge who has recently completed her Foundation Year and progressed onto her first year studying BSc Management.
How did the Foundation Year help you transition into university life?
The Foundation Year provided me with a wide range of skills, experience and a great deal of knowledge that I continue to use throughout my first year studying BSc Management.
The course definitely prepared me for degree level study. They gave me a foundation of knowledge for business, statistics, how to write at a degree level standard, think academically and creatively. In addition, the assignments are like that at degree level, for example, we had to complete individual presentations, group work presentations as well as essays and exams. These assignments were marked at undergraduate level, which helps us to prepare for what to expect during the Undergraduate Programme. Feedback on assignments was extremely useful as it shows you where your strengths are and where you need to improve for future assignments. I have regularly referred to my feedback from my Foundation Year assignments for my degree level modules as a guideline.
Related course: Undergraduate Foundation Year
What did you enjoy most about the Foundation Year course?
This is a very difficult question for me to answer as I feel that the Foundation Year was a brilliant experience and one that I will never forget. If I had to pinpoint a moment, I would say making friends with some amazing people and getting to spend a whole year studying with them. The module leaders and lecturers that helped us throughout the Foundation Year were so supportive and helpful and it was a pleasure to be in their seminars and lectures.
What did you think about the Foundation Year modules?
The modules taught on the Foundation Year provided me with a great deal of knowledge and transferable skills. For example, during the Academic Practice module we covered Harvard referencing which is essential for all assignments throughout the Undergraduate Programme regardless of the course you are studying.
Out of the modules I completed I really enjoyed the Individual Project module, which involved completing a four-week work placement. I was able to complete my placement at Aspens Catering Services. I was also given an insight into different teaching and lecturing styles during the Foundation Year, so that I would know what to expect on the undergraduate course that I was progressing onto.
Personally, I would say that the Maths and Statistics module was the most useful module for me now that I am in my first year of BSc Management. This is because I did not study A-Level maths and so this module helped me develop my understanding of statistics.
How did having a personal tutor help you through your studies?
My personal tutor was excellent and provided me with a great deal of support. I felt that if I ever had a problem I could always go to my personal tutor, talk through my issues, and come up with a solution/plan. I would recommend anyone to speak to their personal tutors if they are having any problems or are worried your studies; they are there to help you and have your best interests at heart.
We also had regular student meetings organised by the Foundation Year team where we would meet as a group and discuss the upcoming weeks. This provided us as students with the opportunity to ask any questions to the module leaders and ask for any advice if we had any concerns. This also enabled us a group to get to know one another and to talk about our feelings towards our studies at WBS. All modules leaders made it very clear that if we ever had any problems we could drop into their office or send them an email and they would help in any way that they could.
How are your studies going now that you have progressed onto the BSc Management course?
My studies so far are going well, last term I studied Quantitative Methods 1, Financial Accounting, Economics for Business, CORE Practice and Markets, Marketing and Strategy. Economics is my favourite module so far because I studied economics at A-Level I have a good understanding of the module and concepts. The completion of the Foundation Year has definitely helped me throughout my first year studying Management.
Why did you choose to study at Warwick Business School?
I had visited the University of Warwick several times before coming here, through trips when I was at secondary school and I have been to several shows at the Warwick Arts Centre. Since coming to the University, I have realised what a diverse range of students study here, as the majority of students who study here come from abroad. It is a great opportunity to learn about different cultures. The university also has a good range of restaurants, study spaces, a shop and the Copper Rooms nightclub for students.
The business school is extremely impressive, with some areas of the building being brand new. During the Foundation Year, most of our classes were based in Warwick Business School, whereas this year we have had seminars and lectures across campus which allows you to explore other buildings. The business school has its own careers team, where you can visit for advice on your CV, internships and work placements. I would strongly recommend them, they will be able to help you as they have a wide range of connections with businesses across the UK and internationally.
If you have any questions about the Foundation Year, you can email us or call us on +44 (0)24 7615 1111.
Find out more about the WBS Foundation Year course.