Problem Solvers: How Alexander Lempka and Sebastian Spiteri Help Blockchain Projects Succeed
08 October 2018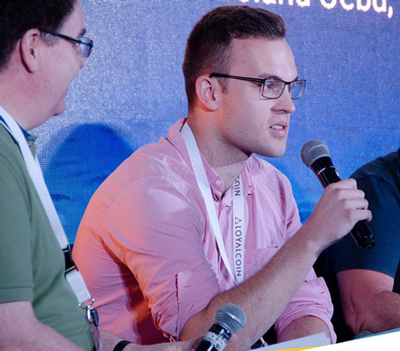 The recent emergence of blockchain technology has been a popular topic amongst students. BSc Management student Alexander Lempka and business partner Sebastian Spiteri have built a business over the past year that provides localisation services, investment solutions and roadshow events to various blockchain projects.
Before delving into the details, it is important to understand what blockchain is. The power of blockchain is that it distributes information across all the nodes (computers) in the system, which is why it is also often called "Distributed Ledger Technology". The database of a blockchain is held on numerous computers at once, making the information decentralised, traceable and secure. Cryptocurrencies are virtual currencies/digital assets that are secured by cryptography. Different cryptocurrency projects have a fundraising round called an "Initial Coin Offering" (ICO).
It has always been my dream to start my own business and help others. I decided to intern at different firms in a variety of industries, largely focusing on emerging technologies, to find out my interests. After a gap year filled with internships in FinTech, Automotive and Private Equity companies, my large passion for FinTech became very clear. It is for this reason that I chose to study BSc Management at Warwick Business School (WBS), an institution known for its large focus on innovation and entrepreneurship. Modules like "Design Thinking for Innovation" and "Entrepreneurship for Business" have enabled me to explore my entrepreneurial drive in an academic environment.
It is during my time at WBS that I fully developed a passion for blockchain technology. Having first come across Bitcoin in 2015 when I worked for a CFD-Trading broker, I looked further into it during my gap year and started investing in 2016 when I started at the University of Warwick. My position as Head of FinTech for Warwick Finance Societies enabled me to get into contact with many industry leaders and attend the largest blockchain events in the world. I invited different projects to campus and soon developed a strong network in the industry. This is just one of the many reasons why I would recommend any undergraduate student to join a society; it is the perfect opportunity to network.
At University, I also met Sebastian Spiteri, a Warwick Engineering student from Malta. We shared the same passion for blockchain and were both keen to work together, but simply didn't know what services we were supposed to offer. In October 2017 we found out. Sebastian worked for an ICO (Initial Coin Offering) project and was asked whether he knew anyone that could provide translations for their whitepaper, a technical document that outlines the project's details. After both Sebastian and I discussed this question, we said that we offer these services. Quickly, we came up with a company name: Coinounce. This was our first ever client and is what got the ball rolling! We thought to ourselves: "WOW, this could actually work".
Over term 1 and term 2 of the 2017/2018 academic year we used our already existing networks in the industry to expand our offerings. By January 2018, we were incorporated in the world's blockchain hub, Zug, the Crypto Valley. This small town located approximately a 30-minute train ride away from Zurich is home to the world's largest blockchain projects. Suddenly, we were a part of the ecosystem.
Our main philosophy is to "grow by solving problems". Through this, the projects we have worked with have raised a combined value of over $200 million over the past 9 months. We are far more than just a translation company. Coinounce offers tailored marketing solutions, community management, algorithmic based advertising campaigns, investor roadshows in key markets (e.g. Korea, Japan, Philippines, Thailand, Vietnam, etc.), influencer marketing and many more services. For one of our clients, for example, we translated all documents into Korean, built Korean social media channels and hosted an investor meet-up in Seoul.
We like to call ourselves a "networking company" and that is precisely what we are. The success of Coinounce has opened many more doors for both myself and Sebastian. Sebastian acted as an analyst for a proprietary investment fund and is now undertaking research into the use case of blockchain technology in trade finance and supply chain management. Furthermore, he currently consults a Korean music and entertainment company to expand their services through the development of a blockchain based platform. I have been hired as the Head of European Markets for a Hong Kong based social media app with over 85 million users, aiming to implement blockchain technology into the users' everyday activities. I am also working on a "one-stop-shop" app for cryptocurrencies with a team in Singapore.
The most important lesson that Coinounce taught us is that most ideas do not require a business plan. I wrote eight different business plans before Coinounce, but never actually launched any of the businesses. Businesses with true value emerge from the solving of problems, an inseparable team and a desire to succeed. For anyone else looking to start their own business, Warwick Business School teaches you how to enhance your entrepreneurial mind-set from day one. Remember that networking is important; societies at Warwick are a great way to meet industry professionals and that even if your first business plan is not as successful as you had hoped for, do not to give up.
Warwick University has allowed us to use our full potential not only in the classroom, but also with all the societies and people that we interact with on a daily basis. We have worked together with a number of Warwick students that are also involved in the industry. We truly believe in the amazing talent present at the university and hope to engage more actively with the student community in the coming academic year.
You can find out more about the undergraduate course that Alexander is studying here.