Business Minister Matthew Hancock launches research
05 March 2015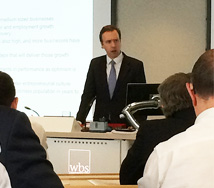 Business Minister Matthew Hancock joined Warwick Business School academics at WBS London for the Small Business Research Conference.
The conference at The Shard saw James Hayton, Professor of Human Resource Management & Entrepreneurship, launch a report on the management and leadership skills in the UK's small and medium sized businesses.
Stephen Roper, Professor of Enterprise and Director of the Enterprise Research Centre, took part in a question and answer session on the growth of small businesses in the UK.
Mr Hancock also launched the Department for Business, Innovation and Skills (BIS) Small Business Survey 2014.
"After the biggest recession in peacetime history, it's now clear to see that our long-term plan is turning the economy around," said Mr Hancock. "Our aim is to make Britain the best place in the world to start and grow a business and this is now within reach.
"Small businesses are leading our economic recovery and we have thrown our weight behind them, like never before. Over 850,000 small businesses have benefitted from the Government's Employment Allowance. We've cut back £10 billion of burdensome red tape and last year UKTI helped nearly 48,000 businesses export more than £49 billion of goods overseas.
"There really has never been a better time to start a business."
Professor Hayton's report for UK Government shows that many small businesses could benefit from improved entrepreneurial skills. While many of the 2,500 small business leaders questioned assessed their skills highly, some said they have weaknesses and can do more to improve their management skills.
"Historically, public policy related to business performance and growth has tended to focus on tangible measures such as improving access to finance, encouraging and enabling the use of business support and reducing regulatory burdens," said Professor Hayton.
"However, there is a growing recognition that other less tangible factors such as management knowledge and skills and the implementation of best management practices also represent important drivers of growth."
The Small Business Survey 2014 found a greater number of small businesses have increased their turnover, expanded workforces and reported profits over the last 12 months, according to new research published today. These businesses forecast this positive trend will continue over the next year.
The research of 4,355 small and medium-sized firms that employ at least one person, found that:
78 per cent reported they have made a profit or surplus in the last 12 months, back to 2007 and 2008 levels and up six per cent on 2012
40 per cent reported their turnover is greater now than 12 months ago, compared with 29 per cent in 2012. Only 18 per cent report declining turnover, down from 31 per cent in 2012
Over half (51 per cent) expect to grow their turnover over the next year, up from 37 per cent in 2012
Employers are recruiting more staff, with 22 per cent of the firms taking on more staff over the last 12 months, compared with 19 per cent in 2012
One third of employers expect to increase their staff over the next 12 months (was only one fifth in 2012) and only four per cent (1 in 25) expect to reduce staff (was one fifth in 2012
Professor James Hayton teaches Strategic Human Resource Management on the Executive MBA and the Executive MBA at WBS London. Professor Stephen Roper teaches Innovation and Alternative Energy Technologies and International Perspectives on Enterprise and Small Business on Warwick Business School's Undergraduate programme.