Dean visits JP Morgan to strengthen relationship
15 May 2015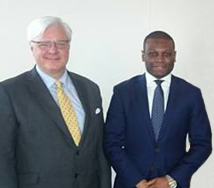 Mark Taylor, the Dean of Warwick Business School, visited JP Morgan to discuss the school's plans and ambitious WBS London base with management and alumni at the firm.
The visit was organised by Warwick Global Energy MBA alumnus Mani Yanika, who now works for the banking firm, with a view to strengthen the relationship between the company and WBS.
Mr Yanika, Business Manager for the Chief Investment Office EMEA at JP Morgan, said: "This visit provided a great opportunity for alumni to learn about WBS initiatives such as the WBS London base at The Shard and also for the Dean to hear some positive feedback.
"Being able to connect the Dean of WBS with senior leaders at JP Morgan was useful for both world class institutions in terms of the recruitment of top graduates from a wealth of diverse backgrounds."
Mr Yanika described the meeting as a great platform to strengthen the industry and academia relationship while promoting the WBS message.
"As a Warwick alumnus and a JP Morgan employee, it was a privilege to be the main driver on connecting the dots," Mr Yanika added.
JP Morgan is a financial holding company offering financial services as well as being a banking institution. It provides investment banking; financial services for consumers and small businesses; commercial banking; financial transaction processing; asset management and private equity.
Alongside Mr Yanika, other management In attendance at the event were Pablo Garnica, CEO Private Bank EMEA, David Hudson, CFO Global Markets, Sikander Ilyas, MD & Co-Head of International Sales & Marketing EMEA, Benjamin Thompson, MD EMEA Leveraged Capital Markets, Rui Fernandes, MD & Head of Equity Derivatives Structuring for EMEA and Asia Pacific and Robert Walke, Campus Recruiting, all of JP Morgan.
After the visit to JP Morgan's offices in London, Professor Taylor added: "It was a great privilege to visit the management team over at JP Morgan and discuss the many great plans WBS has in the capital with our new WBS London located at The Shard.
"As one of the country's leading business schools we want to make our presence felt in London, and connections with global firms like JP Morgan are important for our students who are looking to excel in their sector.
"I'm very grateful to Mani for arranging the visit and his desire to continue to support recruitment from its hugely diverse cohort. I look forward to the next meeting."