Dhruv Batra: WBS gave me the focus to succeed
06 September 2013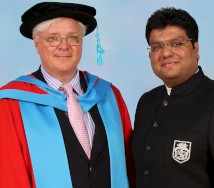 Determination, focus, teamwork and an open mind are the factors that have driven entrepreneur Dhruv Batra to success in business.
The executive director of the Batra Group of companies has forged an extremely productive career since graduating from the University of Warwick in 2005 with a BEng Electronic and Communication Engineering.
After nearly two years at Deutsche Bank Mr Batra became a director at Silver Leaf Capital partners before moving to the Batra Group in 2009. The group has interests in healthcare, transportation and logistics, renewable energy, education, garment exports, oil and gas and the automotive industry.
Mr Batra came to Warwick Business School's recent graduation ceremony to pass on some tips to the next generation of business leaders and pointed out the skills they will need to succeed.
"Once you get a sense of what you want to do as a young graduate you have to be very determined to reach that goal, focus all your energy on that one goal," said Mr Batra. "You need to work very, very hard, because there is no shortcut to success. In my eight years after graduating I have been focused on what I want to achieve and a lot of that has come from my time at Warwick because they were able to help me focus on my goal and help me achieve it. There will be ups and downs, not everything you do will be successful, and you will feel disheartened, but you need to be able to pick yourself up and carry on."
Coming from India Mr Batra said meeting so many people from all over the world at Warwick opened his eyes and his mind, while teaching him to work in a team.
"I came from a typically conservative Indian family where I was not exposed to much," said Mr Batra. "Coming here opened a complete new spectrum of interaction with people from all across the world. I was actively involved in 'one world week', interacting with people from 50 different countries. It imbibes a multi-cultural spirit and gives students the opportunity to interact and work together. In the future it can help you open up and further excel in your career.
"I thoroughly enjoyed working in a team and the sense of team spirit. You get plenty of support from the staff and Warwick is able to open so many doors because they have alumni all across the world.
"Graduating in 2005 was my proudest moment."
Click here to listen to WBS Dean Mark Taylor interview Dhruv Batra.