In Memoriam: Dhruv Batra
31 October 2014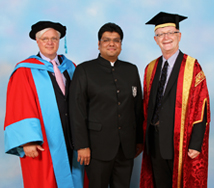 It is with deep sadness that the School learnt of the untimely passing of Dhruv Batra. Dhruv was the Executive Director of the Batra Group and of Cargo Power and Infrastructure, based in Delhi.
A highly talented business leader, Dhruv graduated from Warwick with an engineering degree in 2005 and achieved success with remarkable speed. He was a great supporter of the University and in particular of the Business School.
He gave the alumni address at the 2013 Summer Degree congregation, where he stated: "There are no shortcuts to success. In my eight years after graduating, I have been focussing on what I want to achieve and have been working very hard to do it – and a lot of that has come from my time at Warwick, because they helped me become more focussed towards my goal and achieving it."
Always keen to help the School in India, most recently Dhruv helped us organise a pre-sessional course for our masters degree students in Delhi. I will miss him as a friend as well as a great advocate and supporter of the University. We would like to express our sincere condolences to Dhruv's family at this time.
Professor Mark P. Taylor, Dean, Warwick Business School