External recognition for WBS professors
22 October 2013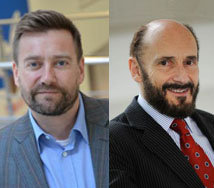 Two professors at Warwick Business School have recently been recognised by prestigious academic and professional institutions for their excellent skills and contribution to their field of expertise.
Professor James Hayton has been presented with the Award for Excellence in Research on the General Topic of Entrepreneurship by the National Federation of Independent Business (NFIB ) Award at this year's Babson College Entrepreneurship Research Conference in Lyon. The award was given for research conducted with WBS PhD student Gabriella Cacciotti on explaining the effects of fear of failure among entrepreneurs.
Babson College, based in Massachusetts USA, is internationally recognized for its standing in the field of entrepreneurship, and the NFIB is America's leading small business association.
The Chartered Financial Analyst Institute (CFA UK) has bestowed Fellowship of CFA UK on Professor Richard Taffler. Fellowship of CFA UK recognises exceptional service to the society and/or to the investment profession. It is rare for an academic to be given this accolade.
CFA UK represents the interests of around 11,000 investment professionals and is part of the worldwide network of member societies of the global not-for-profit CFA Institute. It is the largest society outside North America.
Professor Mark Taylor, Dean of WBS said: "Professor Hayton is a deserving recipient of the highly prestigious NFIB Award through his work on entrepreneurial fear of failure. Professor Taffler has pioneered the emerging area of emotional finance, and has generously shared his research by presenting at many events and masterclasses.
"It is part of the WBS mission to produce and disseminate our world-class cutting edge research, and I am delighted that two external and prestigious associations have recognised the contribution by both these WBS professors towards fulfilling this aim."