Dean questions sustainability of UK recovery on Sky News
30 January 2014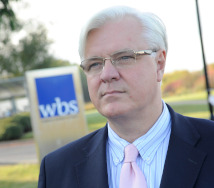 Former Bank of England economist Professor Mark Taylor tells Sky News the UK recovery is not sustainable if business investment and exports don't pick up.
The latest GDP figures showed a 0.7 per cent growth for the final three months of 2013 to deliver a 1.9 per cent expansion of the economy for the year, the strongest full-year showing since 2007.
But that still leaves the economy 1.3 per cent below the level it produced in the first quarter of 2008, while US and Germany have long since surpassed their pre-financial crisis output peaks.
Though the figures are encouraging, Professor Taylor, who was also an economist at the International Monetary Fund, is concerned productivity – that is output per worker – is still declining.
"It is good to have four unbroken quarters of GDP growth and 1.9 per cent growth over the year, but GDP is still less than it was six years ago," said the Dean of Warwick Business School on Sky News' Jeff Randall Live.
"It is also worrying that the recovery appears to be driven largely by consumption. For it to be long-term and sustainable I would like to see a little bit more growth in business investment and exports and we are not really seeing that yet.
"Also there is really a decline in productivity. Unemployment has fallen at the same time as output has increased, so that really it is people working longer hours and more people working, rather than an increase in output per worker, which is driving this recovery.
"To get the Government deficit down we need a long sustained recovery. We are seeing some green shoots, but we need to see exports rising and business investment increasing along with more confidence in our manufacturing sector."
Employment continued to grow strongly through 2013 and the jobless rate fell to 7.1 per cent in the three months to November, but the latest labour market figures showed that output per hour worked fell.
Professor Taylor added: "During the recession economists talked about the productivity puzzle, the fact that output fell but unemployment did not really rise to the extent that we thought it would.
"I think that is because firms were hoarding labour. You would expect that to lead to higher output without the need to employ more people, but I think what is going on is that people are not investing because they are still uncertain about the economy. Therefore, they are loath to invest in new plant machinery or equipment because once you have invested it is hard to get your money back, whereas taking on extra labour is not such a big risk."
The Office for National Statistics (ONS) reported that the UK's services sector grew by 0.8 per cent in the quarter, the same as it did the previous quarter, while production rose by 0.7 per cent, up slightly on the third quarter.
Despite reports of a pick-up in house building thanks to the Government's 'Help to Buy' scheme, construction contracted by 0.3 per cent in the final three months after strong growth in the second and third quarters. Services contributed 85 per cent of the quarter's growth.
The concerns about the sustainability of the recovery may help Bank of England Governor Mark Carney hold off an interest rate rise despite unemployment now just 0.1 per cent from the level when he said he would consider one through his 'forward guidance' policy. Professor Taylor feels the Bank of England may re-appraise what it pegs its forward guidance to now.
"The sense of forward guidance giving us long term assurance that interest rates aren't going to be hiked around - there is a future for that," said Professor Taylor. "But with the rapid fall in unemployment, that kind of forward guidance is behind us. We are entering a new phase now, which may see interest rates linked to real wage growth, if wages start rising faster than inflation for example. Or Governor Carney could give assurance interest rates won't be shifting for the next 18 months."
Professor Mark Taylor is a Professor of Finance. Warwick Business School offers MSc Finance, MSc Finance & Economics, MSc Financial Mathematics as well as MSc Behavioural Finance.