QS ranks Warwick Executive MBA in European top 10
06 March 2017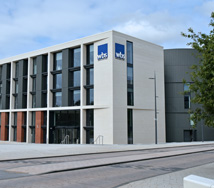 WBS ranked seventh in Europe by QS in new Executive MBA ranking
The MBA was ranked joint second in Careers Outcome category
Ranking system uses input from thought leaders and global employers
Class diversity and executive profile are also key factors used
The career opportunities for Warwick Executive MBAs have been recognised as a significant element of Warwick Business School's top 10 rank of European institutions in a new QS ranking.
WBS is ranked fourth in the UK and seventh in European ranking of the inaugural QS Global 100 EMBA Rankings by Region in the European ranking, with a rank of joint second for the category of Careers Outcome.
The rankings are based on input from thought leaders in business and management, as well as utilising perceptions of global employers who recruit from the world's best Executive MBA programmes and a number of programme-specific indicators such as diversity and opportunity for promotion upon course completion.
Andy Lockett, Dean of Warwick Business School, said: "For the WBS Executive MBA to be ranked seventh in this new QS ranking is a testament to the high quality, innovative teaching WBS offers. Our Professors of Practice combine academic expertise with substantial business experience to aid the practical learning in the classroom.
"It is ultimately our goal to provide students with a real return on their investment and this is supported by the fact the QS ranking for Careers Outcomes has us joint second in Europe and also in the top ten for recruiter reputation. This underlines the world–class education and support our Executive MBA students receive, which in turn helps propel them successfully up the career ladder.
"This, in turn, is supported by our excellent careers team who are always on hand to help MBAs with everything on the career development spectrum, from CV writing to identifying transferable skills."
The results bring together over 200 schools and programmes each of which were surveyed between November 2016 and January 2017. A total of 120 programmes were ranked, 20 of which are joint EMBA programmes.
The ranking is based on a number of factors: reputation for thought leadership research, which is based on a global survey of academics in business and management, and the reputation for employability, based on a global survey of employers who support or recruit EMBA candidates, is also another significant factor.
Professor Lockett added: "The fact our WBS academics are well regarded by their peers across Europe in this ranking is testimony to their solid repuation as thought leaders in their field and their ability to articulate this to the wider academic community and beyond."
Other factors included are the career outcomes of the EMBA, including salary uplift after one year and the impact in terms of promotions. The executive profile and experience of the class, combining years of work and management experience and the proportion of the class who are C-Suite executives and lastly, the diversity of the class in terms of gender and nationalities are also important elements.
To qualify, schools must have at least one graduating class and must have either AACSB, AMBA, EQUIS or EPAS accreditation. WBS itself is triple accredited via AACSB, AMBA and EQUIS – the gold standard in business education.
John Colley, Associate Dean of the MBA, added: ""With programmes on campus here at Warwick and also at The Shard in London, and with specialisms across Healthcare, Finance, Entrepreneurship and Strategic Leadership, we really want to provide our students with a programme lead by their requirements with the flexibility to shape their study around work commitments and professional interest.
"As these specialisms continue to grow and develop alongside the needs of our students, I expect to see WBS climb even higher in future QS Executive MBA rankings as we further showcase our thought leadership and research across these sectors."
View the complete ranking here: http://www.topmba.com/emba-rankings/region/europe/2017