Apple leads the way with its 'Quantum Strategy'
10 November 2015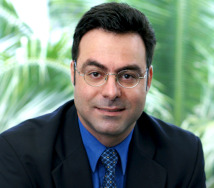 In an article for our original Core magazine Professor Loizos Heracleous indicates that the Apple's future is bright thanks to its 'Quantum Strategy'.
Professor Heracleous found that Apple has achieved the rare feat of accomplishing serial innovation and outstanding design, while keeping costs incredibly low to regularly hit margins above 20 per cent. At a quantum level of reality the same electron can be at two places at the same time, hence, the Warwick Business School Professor has dubbed Apple's game plan 'Quantum Strategy'.
"Apple will stand the test of time because it has pursued a strategy which is both rare and incredibly difficult for competitors to imitate," said Professor Heracleous, Professor of Strategy at Warwick Business School.
"Over the last 15 years Apple has revolutionised the personal electronics, telecoms, computer and media industries through a string of blockbuster products that offer unique, integrated customer experiences."
"Apple has got the highest levels of efficiency in its peer group which it manages to balance with serial innovation and addictive product design, both of which command premium pricing and redefine markets."
Although its market share may be down, Apple remains the world's most powerful brand according to Forbes, becoming renowned for innovation. But Professor Heracleous says innovation is only one part of Apple's 'Quantum Strategy'.
He added: "What is harder to understand is how all this can be done at a level of efficiency that is superior to that of the traditional cost leader, Dell."
Click here to see the full version of Professor Loizos Heracleous' article 'Quantum Strategy at Apple Inc.' published in Core, Warwick Business School's new magazine.
See this article when it originally featured at The Daily Beast and Bloomberg Businessweek.
Professor Loizos Heracleous teaches Strategy and Practice on the Executive MBA and the MSc Marketing and Strategy courses.