Student returns for life-changing competition
18 March 2015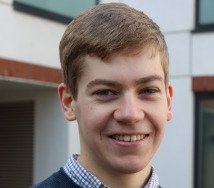 Despite having his sights set on a career in medicine, 14 year-old Joe Wareing found himself taking part in business competition The Big Deal after some encouragement and persuasion from one of his teachers.
Fast forward almost 10 years and Joe is in the final year of an Accounting & Finance degree at Warwick Business School, juggling his studies with mentoring a team of students from his old secondary school to win at The Big Deal.
It was when he was in Year Nine at Jack Hunt School in Peterborough that Joe first took part in the competition and enjoyed it so much that not only did he take part again the following year, but he decided that business rather than medicine was the career for him.
"Initially, I've got to admit, I wasn't that interested in doing the project," says Joe. "I had been asked by a teacher who I'd never had any association with before the programme (but who has since become one of my biggest influences to my education and career path), and was told that it would be a good opportunity for me, so in the end I reluctantly said yes."
After attending the launch event at the University of Warwick, and discovering what was actually required, Joe became more enthusiastic about the annual social enterprise competition, a Dragon's Den style competition organised between Warwick Business School and the University of Warwick's Outreach and UniTracks teams.
"We had to carry out very similar tasks to the ones the students have to complete this year, and basically create a business or social enterprise idea," explains Joe. "It gave me a real understanding of what was required in business."
The Big Deal is part of the University of Warwick's outreach programme designed to promote the values of higher education and to encourage students from non-traditional backgrounds to aspire to research intensive universities. The 10-week competition sees teams work with a mentor to create a business idea, formulate a business plan and pitch to a panel of judges.
The young people learn about teamwork, presentation skills, time management and leadership, as well as more general business skills. So what made Joe want to mentor a fresh crop of students this year?
Joe says: "I decided to be a part of the programme this year because as I look back now, I realise how useful it is for students. Not only in terms of the skills learned, but in providing an understanding of business, which they may want to explore further in their higher education. Also, it is an amazing reference to use in interviews or personal statements which many other students would not be able to use. It sets them apart.
"Having been in their shoes myself, I realise that not all students participating will have the most motivation to get involved. I wanted to give them someone to relate to, not only about the work itself, but about the benefits. I am someone who took part in the programme at their age, rather than a random staff member or business mentor, who they might not be able to relate as much to.
"I felt that being paired with my old school, Jack Hunt, meant I could not only give the students even more to relate to, but would give me more motivation to communicate and help the students, because I know the exact background the students have come from. I feel that this motivates me even more to help – and of course I want my old school to win!
"At school you all tend to be from the same type of background, at university you maybe realise that you're from a less-advantaged background compared to many of your classmates. I want to help out in any way I can to bring these talented students from Jack Hunt - and elsewhere - to the University of Warwick to make them realise that there are still opportunities for them to study where they want, and that they aren't necessarily limited because of their initial education."
The Big Deal 2015 was launched on January 17 with Year 10 students from across the UK travelling to Warwick Business School to meet industry and student mentors who will guide them through the process which culminates on Thursday March 19.
They are working through tasks including market research, budgeting, creating a prototype, designing marketing materials and, finally, creating a business or social enterprise plan to pitch to a panel of judges.