Tackling disability in the workplace
25 March 2014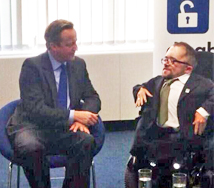 When Dominic Hyams graduated from Warwick Business School in 2009 with a BSc in Management he had already secured a job in advertising at WPP, the marketing communications group. But the economic climate was hugely unstable and Dom soon found himself looking for work again.
He got in touch with some contacts he had made at Channel 4 when he had taken part in a documentary aged 18 years old. The Crip on a trip programme followed Dom and a group of friends as they went travelling around Europe. His contacts told him there was a short space of time left to apply for the Channel 4 graduate scheme so he applied at the last minute and got the job.
Born with Osteogenesis Imperfecta, or brittle bone disease as it is more commonly known, Dom had lived very happily with his disability through his school years and during his time at University and was looking forward to starting work in television.
"I found my experience at WBS incredible, and totally inclusive, meeting all my needs and definitely getting me ready for a world where I felt confident I had the skills needed to take me on my chosen career path," said Dom.
Getting into a career in television
His placement while on the graduate scheme was at Sunset+Vine, a sports production company who produced the 2012 Paralympics Games. At the end of the graduate training year they offered Dom a full time permanent role which he was delighted to accept and a few years later, he is now Assistant Producer.
Dom said: "I was the first disabled person to work at Sunset+Vine but the people I had my interview with were great. I made it very clear when I started there that they could ask me anything and we worked together to make everything run as smoothly as possible. The highlight of my career so far has been working on the Paralympic Games in 2012; it was the most rewarding experience of my life."
Soon Dom attracted the attention of the Department for Work and Pensions (DWP) who were arranging the Disability Confident Conference 2013.

Collaborating with the DWP
The Minister for Disability, at that time Esther McVey, asked him to help the DWP promote their drive to get disabled people into the workplace and make employers more confident in employing disabled people. As part of this, Ms McVey visited Dom at Sunset+Vine to make a film about disability confident employers.
The DWP also wanted Dom to start a blog to talk about his experience of being disabled in the workplace which he was willing to do but had a clear vision of how he wanted it to work.
"I wasn't going to start writing the most boring blog on the planet about disability because it just didn't feel sincere or inspiring. I decided I would make a slightly tongue in cheek 'tiny man blog', depicting stories, moments of learning and experiences of being a little man in a wheelchair, all through the medium of diagrams.
"The idea was that over time, pushing out regular posts every couple of days, I could start discussing all sorts of issues including disability and employment, with those posts seeming authentic, not staged," said Dom.
The Tiny Man Blog and meeting David Cameron
The Tiny Man Blog was born and today its posts have a reach of 100,000 on Twitter @TinyManBlog and 1-2000 shares per post on the blog website itself.
The culmination of Dom's efforts to highlight disability in the workplace came at the Disability Confident Conference on 18 July 2013 where he was selected as an ambassador to meet Prime Minister David Cameron and discuss his experiences.
Dom was also featured alongside TV producer Simon Birri and Paralympian and broadcaster Ade Adepitan in a film presented by Hazel Irvine for the DWP about disability confident organisations.
Twitter activity at the Disability Confident Conference resulted in the hashtag #disabilityconfident trending at number one on Twitter in the UK, delivering a cumulative reach of over 13.5million.