World's first Behavioural Design Lab: helping people lead better lives
28 March 2013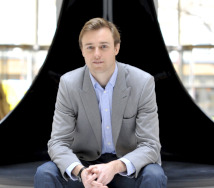 The world's first Behavioural Design Lab has one simple aim – to help people lead better lives.
By combining the cutting edge scientific research of Warwick Business School's burgeoning Behavioural Science Group with the power of design the Behavioural Design Lab aims to tackle issues ranging from binge drinking and social isolation to reducing infection in hospitals and tackling anti-social behaviour.
Ed Gardiner is the Behavioural Design Lead for Warwick Business School, spending four days a week at the Design Council in Angel, London. "In behavioural science we look at how we can better understand why people behave the way they do, relying on objective measures and teasing out a causal relationship," says Gardiner. "Design complements behavioural science as both have people at the core of them.
"We aim to combine great, dramatic innovations with rigorous scientific evidence that will have a real impact on the UK and make people's lives better," says Gardiner. Watch our film to find out more.