Threat of jail needed to change bank's culture
08 July 2015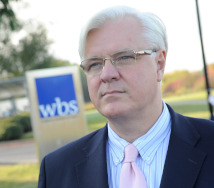 Mark Taylor, Dean of Warwick Business School, welcomed the Bank of England's recommendation to introduce tougher criminal sanctions for the rigging of financial markets.
At his annual Mansion House speech Governor Mark Carney declared an end to the "age of irresponsibility" as the Bank of England's Fair and Effective Markets Review (FEMR) was published.
Professor Taylor was on the advisory board of the FEMR, which was a year-long comprehensive review and forward-looking assessment of the way wholesale financial markets operate to help restore trust in the City in the wake of a host of scandals including the foreign exchange market and Libor manipulation, with seven major UK-based Fixed Income, Currencies and Commodities (FICC) benchmarks also looked at.
Professor Taylor said: "The reputation of the UK's financial services industry is vital to the UK economy as it makes up eight per cent of the country's GDP and more than a fifth of London's.
"The changes to the regulatory framework proposed by the FEMR will, I believe, go a long way to restoring the City's reputation for integrity and an effective and efficient location for financial organisations to do business.
"It has been disturbing to see that despite the billions of pounds in fines paid over recent scandals that no senior manager has faced criminal proceedings. For the culture of the financial services industry to change a threat of sanctions on individuals must be imposed and I am glad to see the FEMR recommending such moves. We need fund managers and traders to think of their role for society rather than their wallet, after all what they do affects all our pensions and millions of people's livelihoods.
"I hope that the new market standards body and regulatory framework will be something that the rest of the financial world looks to use as well, as this is a global industry and it needs global regulations."
Banks including Barclays, HSBC and Royal Bank of Scotland have already suffered billions of pounds in fines for a run of scandals including money laundering and the mis-selling of insurance.
The FEMR sets out 21 recommendations to:
Raise standards, professionalism and accountability of individuals
Improve the quality, clarity and market-wide understanding of FICC trading practices.
Strengthen regulation of FICC markets in the United Kingdom.
Launch international action to raise standards in global FICC markets.
Promote fairer FICC market structures while also enhancing effectiveness.
Promote forward-looking conduct risk identification and mitigation.
Maximum criminal penalties for market abuse will be extended from seven to 10 years in prison, in line with other fraud offences, and stretching them to cover a wider range of FICC instruments, with a new FICC Market Standards Board.
The Senior Managers and Certification Regimes will be extended across more FICC markets, so extending the penalties to thousands of people, including asset managers, interdealer brokers and hedge fund managers.
The review, chaired by Minouche Shafik, Deputy Governor for Markets and Banking at the Bank of England, with co-chairs Martin Wheatley, Chief Executive of the Financial Conduct Authority and Charles Roxburgh, also recommends creating a new statutory civil and criminal market abuse regime for spot foreign exchange, and a new global foreign exchange code as it puts forward ideas for international regulators to raise standards in FICC markets.
Professor Taylor added: "The FEMR has done a very thorough job, with its recommendations to make the foreign exchange trading more transparent particularly welcome.
"The London 4pm fix is one of many benchmarks used by the financial markets that has come under scrutiny after the recent scandals and I hope this review will lead to a more transparent and fairer system used to evaluate benchmark prices, which will hopefully be replicated around the globe."