Top 5 skills recruiters look for and how to develop them
07 July 2016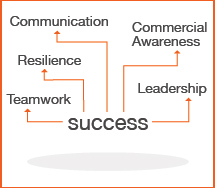 WBS Career Manager Alison Collins look at skills recruiters seek
Top 5 skills include everything from commercial awareness to resilience
Recruiters across the world are all seeking the same skills
Read on to find out how to stand out from the competition
WBS Career Manager Alison Collins believes the key skills required by recruiters, for graduate level jobs in particular, are the same wherever in the world you plan to work.
Recruiters expect that MSc graduates will become future leaders in their business, and are looking for your potential to become a valuable member of their team.
To stand out from the competition, the following five attributes are the skills Alison believes you will need to be able to show to recruiters:
Commercial awareness
This is probably the most important skill on this list, but the one that is most often overlooked by students.
Recruiters have high expectations of graduates from one of the country's top business schools, and one of their expectations is that you'll be genuinely interested in business. This means that you are knowledgeable about the industry and the company you're applying for, and that you can discuss current affairs and business news confidently and have an opinion about them.
Building your commercial awareness takes time – it's not something you can learn the night before an interview – and the best way to develop it is by following the news. Our webinar on 'Researching companies and jobs' contains links to lots of general and specialist news sites to get you started.
Communication
Being able to communicate your point of view clearly, explain complex ideas and make persuasive arguments is important in all jobs. Recruiters look for candidates who can communicate effectively and appropriately with different people (they wouldn't expect you to speak to your boss in the same way you speak to your friends) both in writing and verbally.
Teamwork
Regardless of the job you do, you'll be working with other people in some way or another. Recruiters are interested in applicants who can work well with other people, support colleagues and help everyone succeed, as they are thinking about how you'd fit into their team. Assessed group discussions, which are a common part of the recruitment process, are a way of testing how well you can work with other people.
Resilience
The recruitment process can be tough, as can the world of work! Recruiters want to see that applicants can cope with setbacks and recover when things don't go their way. This will be important when you start work, as in every job there will be occasions when things don't work out the way you want and you have to pick yourself up and try again.
Leadership
When recruiting at MSc level, recruiters are thinking long term about your leadership potential. To recruiters, leadership doesn't just mean having a managerial position or being in charge of a team. They are looking for people who can motivate others, delegate tasks effectively and, most importantly, lead by example.