Undergraduates win £400 in prizes thanks to UBS
02 March 2015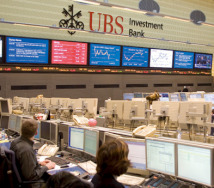 Prizes totalling £400 have been awarded to the best-performing WBS students for their outstanding achievements in their Financial Management by investment bank UBS.
For the Foundations of Financial Management module Vendy Dohnalova claimed first prize and was presented with a £100 Amazon voucher. Enrico Maestri and Yannan Li shared second place and were each awarded a £50 Amazon voucher.
Anuj Puri won first prize for the Financial Management module, while fellow students Tautvydas Cerkauskas and Yvonne Lyn Ee Ng were second, winning a £50 Amazon voucher each.
The prize-giving was followed by a case-study presentation by Warwick alumnus Tobias Wagnert, Managing Director of UBS Investment Banking, on M&A with real life insights into investment banking.
The evening was rounded off with a drinks reception, courtesy of UBS, at which students had the opportunity to network informally with the UBS representatives present.
Professor Peter Corvi, Financial Management module leader, said: "WBS is extremely grateful to UBS for continuing to sponsor these prizes, deliver a guest lecture and host the drinks reception afterwards. This is the seventh year in a row that UBS has done this."
Dr Olga Lebedeva, Foundations of Financial Management module leader, said: "It was fantastic to have Tobias deliver such an insightful talk on M&A. We were all very privileged to have the opportunity to listen to him."
Professor Louise Gracia, Associate Dean of the WBS Undergraduate Programme, added: "All the prize winners achieved a mark well into the 90 per cent range, a truly outstanding performance and a solid indication of the calibre of our undergraduates.
"Our students are highly sought after and valued by employers, and with performances like this it is easy to see why. A Warwick degree creates the possibility of entry into a wide range of exciting and rewarding careers and provides an excellent platform for students to build on through Master's level study."
The modules are part of the BSc Accounting & Finance, BSc International Business, BSc International Management and BSc Management courses at WBS.