Up to £800,000 awarded to research COVID-19 pandemic
10 November 2020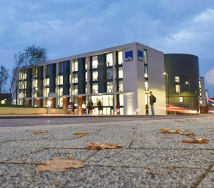 The school has secured funding for four projects researching pandemic
Nearly £500,000 will be used to investigate effects on UK care homes
Neil Stewart will evaluate the impact of lockdown policies on businesses
Two projects focus on how country's small firms have coped in crisis
Warwick Business School has secured almost £800,000 of funding to research the impact of the COVID-19 pandemic on business and society.
The school has won £745,025 in funding for four research projects that will investigate subjects ranging from the effects of lockdown policies on small and medium-sized enterprises (SMEs) to the impact on care home finances.
The pandemic has seen more than one million confirmed cases and over 46,000 deaths in the UK , with the lockdown seeing the economy shrink by a record 20 per cent in April.
Ram Gopal, Professor of Information Systems Management and Pro-Dean for Research, said: "The effects of the pandemic have been far-reaching and the repercussions are still to be truly understood. These research projects will help the country understand in more detail the effect of the pandemic and subsequent policies to contain it.
"For the country to recover we need to assess accurately the impact and use that data to help build back to not only where we before but to improve policies and practices.
"The award of this research money to WBS illustrates the quality of academics we have and the faith funding bodies and policymakers have in our world-class faculty."
The largest share of the research grants will see Marianna Fotaki, Professor of Business Ethics, lead a study understanding the financial impact of COVID-19 on the UK care home sector and the implications for businesses and the workforce.
Professor Fotaki has been awarded £449,490 from the Government's UK Research and Innovation (UKRI) body for the 18-month project, which will be in collaboration with UCL and the Centre for Health and the Public Interest, and is designed to inform policy debate about the future of social care provision in the UK.
The UKRI has awarded Neil Stewart, Professor of Behavioural Science, £233,402 to lead research into evaluating the effectiveness of the many policy innovations made during the pandemic to help small businesses and workers. Professor Stewart will be working with the Financial Conduct Authority, the National Employee Savings Trust, financial app Moneydashboard and retail bank NatWest to use a unique set of real-time data to give policymakers much faster results than is traditionally produced by the Office for National Statistics.
Finally, Stephen Roper, Professor of Enterprise and Director of the Enterprise Research Centre (ERC), has received two grants. The first of £32,133, will see Professor Roper and colleagues at the ERC work with UKRI agency Innovate UK to establish the impact of COVID-19 on SMEs' innovation capabilities.
Professor Roper has also been awarded £30,000 to assess how the pandemic has affected mid-size companies in Coventry and Warwickshire, particularly their supply chains and investment plans.
The awards follow a host of publications on the pandemic and its impact, including:
Professor Gopal added: "The pandemic has had an unprecedented impact across the country. The Bank of England expects unemployment to climb to 7.75 per cent by the middle of next year. If UK business is to recover and bring back jobs then it will be with the help of robust, quality research like this to inform evidence-based decisions from Government and policymakers."