Understand innovation in the digital age
24 June 2016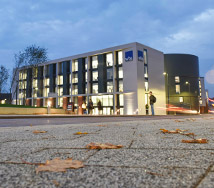 WBS launches BSc Digital Innovation and Entrepreneurship
Course will offer insight on innovation in the digital age
Course leader is Aleksi Aaltonen
Students will be able to pick modules to tailor their learning
In a world where start-ups and online businesses are constantly disrupting the market – think Uber and the taxi world, Airbnb and the hotel industry – adaptability is essential.
With this in mind Warwick Business School has established a new BSc Digital Innovation and Entrepreneurship programme.
The course has been designed to give graduates the right education and skills so they understand how digital technology is enabling and reshaping innovation and entrepreneurship in the digital age.
Course leader Aleksi Aaltonen, Assistant Professor of Information Systems, said: "Our new BSc Digital Innovation and Entrepreneurship course offers students a combination of skills and knowledge that are in high demand. You will be able to head for entrepreneurial as well as more traditional careers in consulting and information management.
"The course is taught by a leading international Information Systems group. The tutors include top academics in the field, many of whom have industry experience through consulting and entrepreneurship.

"Based on my experience as a start-up founder and as a consultant, I believe the new BSc Digital Innovation and Entrepreneurship offers the right combination of tradition and innovation in information systems."
The three-year course will provide a number of core and elective modules for students.
Core modules set to be taught in year one include Digital Ventures, Agile Programming and Design thinking for Digital Innovation. Elective modules for year one include Understanding Organisational Behaviour, Markets, Marketing and Strategy and Foundations of Financial Management.
In year two and three the core modules are set to include: Funding your Digital Venture, Project Management and Business Data Analytics.
A variety of elective modules covering topics such as marketing, finance, strategy and accounting will enable students to tailor their learning to best suit their interests.
"The new BSc Digital Innovation and Entrepreneurship course promises to give students a real sense of developing a business in a world where digital innovation and entrepreneurship go hand in hand," added Professor Louise Gracia, Associate Dean of the Undergraduate Programme at WBS.
"Students will have access to a first-class team of academics bridging two related disciplines, while retaining the flexibility to develop their skillset in a targeted way, sure to prove advantageous in developing their future careers."
Contact the undergraduate team for more details.