What I did next - Topping the CIO 100 list with Halfords
31 March 2016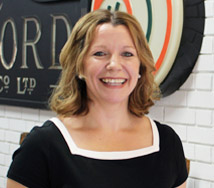 For one Warwick Business School alumna, topping the CIO 100 list is as much about trailblazing for her gender in a male dominated sector as it is a personal achievement.
Anna Barsby, who studied her MBA at WBS, is Chief Information Officer at Halfords.
She was listed top of the CIO 100: the first female to top the list.
"I hope it encourages more girls to go into IT," she says.
Halfords is a leading retailer in automotive and cycling as well as auto repair.
Anna looks after everything IT and in our latest 'What I did next' video describes what excites her most about her role.
"Working in IT – it is an interesting time – you have to stay relevant, have to stay current. Technology is moving at such a massive pace, it's so exciting to be a part of," Anna adds.
"What I learned most during my undergraduate and MBA study at Warwick was that I have the confidence the ability to think I can do anything."
Watch the full video below:
For more information on the MBA courses offered by WBS, click here