Effective collaboration between academics and practitioners facilitates research uptake in practice
10 April 2018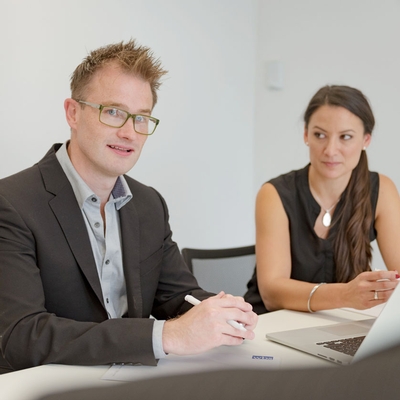 New research has been conducted by Eivor Oborn, Professor of Entrepreneurship & Innovation at Warwick Business School and Michael Barrett, Professor of Information Systems & Innovation Studies at Cambridge Judge Business School, to better understand the contribution of collaboration in bridging the gap between research and its uptake in to practice.
Much has been written on the role of knowledge exchange to bridge the academic-practitioner divide. The common view Is that academics 'talk funny', using specialised language, which often leads to the practical take home messages being missed or 'lost in translation'. The challenge for academics is to learn how to connect 'theory or evidence driven' knowledge with practitioners' knowledge to 'give sense' and enable new insights to form.
The research examines four strategies by which academics may leverage their expertise in collaborative relationships with practitioners to realise, what the authors term: 'Research Impact and Contributions to Knowledge' (RICK).

1. Maintain critical distance
Academics may adopt a strategy of maintaining critical distance in how they engage in academic-practitioner relations for a variety of reasons, for example, to retain control of the subject of investigation.

2. Prompt deeper engagement
Academics who are immersed in one domain, become fluent in a new language and gain practical expertise in this second (practical) domain. For example, in the Warwick-led NIHR CLAHRC West Midlands, academics are embedded and work closely with their NHS counterparts. This provides academics with knowledge -sharing and -transfer opportunities, enabling them to better respond to the knowledge requirements of the health service, and in some scenarios, co-design research studies, and catalyse upon opportunities to promote the use of evidence from their research activities.

3. Develop prescience
Prescience describes a process of anticipating what we need to know – almost akin to 'horizon-scanning'. A strategy of prescience would aim to anticipate, conceptualize, and influence significant problems that might arise in domains over time. The WBS-led Enterprise Research Centre employs this strategy and seeks to answer one central question: 'what drives SME growth?'

4. Achieve hybrid practices
Engaged scholarship allows academics to expand their networks and collaboration with other domains and in doing so generate an entirely new field of 'hybrid' practices.

The research examines how the utility (such as practical or scientific usefulness) of contributions in academic-practitioner collaboration can be maximised. It calls for established journals to support a new genre of articles that involve engaged scholarship, produced by multidisciplinary teams of academic, practitioners and policymakers.

The research is published in Information & Organization journal, together with a collection of articles on Research Impact and Contributions to Knowledge (RICK) – a framework coined by co-author on the above research, Prof Michael Barrett.
Barrett, M. & Oborn, E. (2018) "Bridging the research-practice divide: Harnessing expertise collaboration in making a wider set of contributions." Information & Organization https://doi.org/10.1016/j.infoandorg.2018.02.006