Exploring the Impact of Scenic Environments on Wellbeing
29 November 2017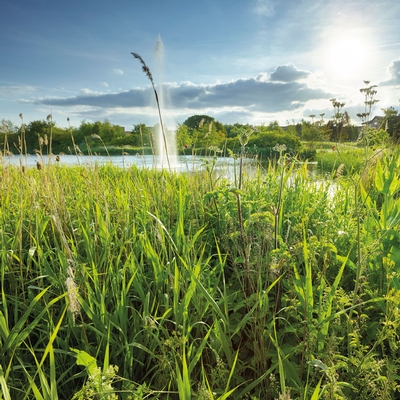 WBS Data Science Lab researchers have provided evidence of links between scenic environments and increased wellbeing. Doctoral researcher Chanuki Seresinhe and lab directors Dr Suzy Moat and Professor Tobias Preis analysed over 1.5 million crowdsourced ratings of over 200,000 outdoor photographs taken across Great Britain to determine whether beautiful environments are good for people's wellbeing.
The results demonstrate that people who live in areas rated as more scenic report their health to be better. Notably, the findings show that this relationship holds true not only in rural areas, but in urban and suburban areas too, even when taking measurements of greenspace and socioeconomic indicators of deprivation into account.
The researchers also investigated what comprises a scenic location, using a deep learning approach to determine the contents of all 200,000 photographs. The team found that not only natural scenery, but man-made structures such as castles and viaducts led to higher scenic ratings. However, large areas of greenspace such as 'grass' and 'athletic fields' led to lower scenic ratings, rather than boosting scores.
The researchers then adapted the deep learning model to generate scenic ratings for photographs that had not previously been rated. Automatic detection of scenic locations in London identified not only Hampstead Heath, but also Big Ben and the Tower of London.
The results provide evidence that the aesthetics of the environments that policymakers choose to build or demolish may have consequences for our health and wellbeing. Together, the findings of the studies show that green locations do not necessarily equate to scenic locations. This distinction has clear relevance for planning decisions which aim to improve the wellbeing of local inhabitants.
The results of this research have drawn attention from practitioners in the urban planning, architecture and housing sectors, as well as UK Government. A policy briefing summarising the findings has recently been published, and can be accessed here: https://www2.warwick.ac.uk/fac/soc/impact/policybriefings/deep_learning_beauty_policy_briefing_final.pdf