Guglielmo Meardi wins James G. Scoville award
08 May 2019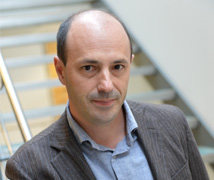 Professor Guglielmo Meardi, the Director of the Industrial Relations Research Unit (IRRU) at Warwick Business School, has been awarded the James G. Scoville Best International Paper Award by the US Labor and Employment Relations Association (LERA) for the best international-comparative labour paper of 2018. Professor Meardi won for Economic Integration and State Responses which has recently been published in the British Journal of Industrial Relations.
The award will be received at the LERA Annual Meeting in Cleveland in June. Commenting on Professor Meardi's award, the Committee Chair, Professor Ian Greer, said "the members of the committee chose this paper because it makes an important argument about what is happening overall in European industrial relations. It does so with subtlety and a multi-level analysis, drawing on qualitative and quantitative sources."
This is the second prestigious award for the IRRU's work in recent weeks, after the Academy of Management Dorothy Harlow Best Conference Paper Award to Seonyoung Hwang, Dr Shainaz Firfiray and Professor Kim Hoque for Gender, ethnicity, and emotional responses to daily family interference with work.
If you would like to find out more about the IRRU and their research, please visit the IRRU homepage.