Ivo Vlaev selected to take part in Behavioural Insights Research programme
28 May 2019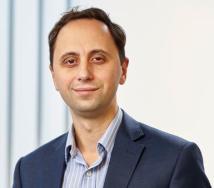 Ivo Vlaev, Professor of Behavioural Science at Warwick Business School, has been selected by the Health Foundation to take part in its new Behavioural Insights Research programme. The programme will support three research teams with grants of between £220,000 and £440,000 and each project will run for up to three years.
The aim of the programme is to support research that designs, tests and evaluates behavioural interventions that can improve efficiency and reduce waste in healthcare services in the UK.
Professor Vlaev's research project, Nudging more cost-effective medication use across NHS organisations, aims to use behavioural insight methods to optimise healthcare workers' medication prescribing and use choices. He will work with six NHS organisations in England - three primary care and three secondary care – to identify the most common reasons for sub-optimal medication use and the groups of behaviours associated with these. The aim is to use light-touch, low cost interventions to improve medication prescribing and use.
Discussing his research project, Professor Vlaev said, "Suboptimal prescribing of medication is an increasing global healthcare challenge which contributes to rising monetary costs, prolonged hospital stays, rising patient disease levels, and even the emergence of antimicrobial resistance around the world. We hope to discover low-cost behavioural change interventions which policy makers can use to optimise prescribing on a national level. If we are successful, other countries and health systems may also benefit."
Darshan Patel, Senior Research Manager at the Health Foundation, said: "The chosen projects for this round of the Behavioural Insights Research programme are all rooted in 'behavioural insights' or 'nudge theory'.
"Each project will draw on key principles of improvement, aiming to generate new knowledge of what can motivate people to act in more efficient and less wasteful ways, and will see behavioural scientists working alongside frontline staff."
To find out more about Professor Vlaev's research, read his latest Core Insights article on how behavioural science nudges can improve healthcare.
Professor Ivo Vlaev joined Warwick Business School in 2014. He is interested in human decision making and behaviour change and teaches on our Postgraduate portfolio.