Loizos Heracleous wins Douglas McGregor Best Paper Award
19 July 2019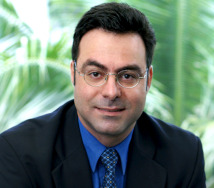 Loizos Heracleous, Professor of Strategy at Warwick Business School, has been awarded the Douglas McGregor Award for the best paper published in the Journal of Applied Behavioral Science during 2018. Open Strategy-Making at the Wikimedia Foundation: A Dialogic Perspective explores the role of dialogue in open strategy processes in the context of the development of Wikimedia's five year strategy plan. Alongside his co-authors, Julia Goesswein and Philippe Beaudette, Professor Heracleous received the award at the Annual Meeting of the Academy of Management in Boston on 11 August 2019.
Speaking on the award and his paper, Professor Heracleous said: "As an organisation development, change, and practice-oriented scholar, it is an honour to receive the Douglas McGregor Best Paper Award for research on open strategy-making at Wikimedia Foundation. This award recognises the integration of 'practical scholarship and scholarly practice', a goal I have been pursuing throughout my career. I believe that as business school professors we have to be both independent from, but also close and helpful to practice, sometimes a tricky balance to achieve. My two co-authors are an MSc graduate of WBS who is now a management consultant (Julia Goesswein), and a leader deeply involved in the open strategy process at Wikimedia at the time (Philippe Beaudette). Our collaboration in this article enabled us to draw from both scholarly and practice perspectives and advance not only understanding of open strategy processes but also make applied recommendations of how an organisation can more effectively implement such processes."
The namesake of the award, Douglas McGregor, was management professor at the MIT Sloan School of Management and founder of the field of organisation development. His book The Human Side of Enterprise was voted the fourth most influential management book of the 20th century in a poll carried out by the Academy of Management. In keeping with his legacy, the winners of the Douglas McGregor Award represent a blend of practical scholarship and scholarly practice.
You can read Open Strategy-Making at the Wikimedia Foundation: A Dialogic Perspective here.
Professor Loizos Heracleous teaches on our Executive MBA and Executive MBA (London), the Doctor of Business Administration (DBA), as well as the Executive Diploma in Organisational Change and the Executive Diploma in Strategic Leadership. Follow him on Twitter @Strategizing.