Pinar Ozcan awarded British Academy Fellowship
10 May 2019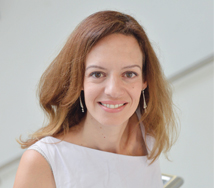 Pinar Ozcan, Professor of Strategic Management at Warwick Business School, has been awarded a Mid-Career Fellowship by The British Academy for her work on market transformation in banking through regulatory change. The Fellowship will resume in September 2019 and follows the Research in Organisations Grant Professor Ozcan was awarded by The Strategic Management Society for her preliminary research.
Mid-Career Fellowships are designed both to support talented individual researchers with excellent research proposals, and to promote public understanding of – and engagement with – subjects in the humanities and social sciences. The scheme allows academics time to focus on a major piece of research by obtaining time away from teaching and administration commitments.
Professor Ozcan said: "I feel incredibly honoured and lucky to have received this fellowship, which will allow me to concentrate on the open banking and fintech research for the next year. This research project is extremely time-sensitive as it traces the developments in the banking industry following a major regulatory change. I am grateful to the British Academy for giving me the time to complete it and deliver the academic and impact-related findings."
Professor Ozcan's research explores how incumbents and new players in the UK and European banking industry are adopting open banking and a platform business model. The recent Open Banking Initiative in the UK, and Payment Services Directive 2 in the EU, require banks to allow third party providers, at the request of customers, to carry out payment services. These new regulations are disrupting the industry and Professor Ozcan's research aims to examine how different firms adapt to the changes and what variations can be observed across different countries.
Welcoming the new Mid-Career Fellows, President of the British Academy Sir David Cannadine, said:
"I am delighted to welcome this group of exceptional scholars to the British Academy. The research funded under the Mid-Career Fellowships scheme is always fascinating, engaging and relevant, and this year's projects are no exception.
"Whether examining how blockchain technology could lead to safer bailouts for banks, or analysing the effectiveness of anti-Semitism prevention programmes, our new Mid-Career Fellows will help tackle some of the most pressing national and international challenges, while furthering public understanding of, and interest in, the humanities and social sciences.
"We wish the Mid-Career Fellows every success and look forward to seeing the results of their work."
Professor Ozcan has been at Warwick Business School since 2012 and specialises in strategy, entrepreneurship, and the emergence of new technology markets. In 2014 she was selected by Poets and Quants as one of the Top 40 Business School Professors under 40, and in 2018 she was selected to the global Thinkers 50 list for emerging thinkers with the potential to make lasting contributions to management theory and practice.