WBS academics awarded funding by the National Institute for Health Research
20 August 2019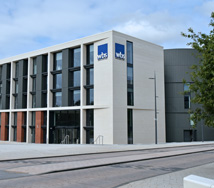 Professor Jacky Swan and Dr Rachel Manning of Warwick Business School have been awarded funding by the National Institute for Health Research (NIHR) as part of the NIHR Research for Patient Benefit programme (RfPB). The programme has provided funding of £2.5 million to twelve projects and is part of the NIHR's ongoing efforts to build and improve social care research in England.
The project will provide new insights that aim to help improve the spread and uptake of innovations in the delivery of care services for homeless people. In particular, it will examine the alignment between new models of care and the values of key stakeholders that are expected to deliver them. This is crucially important because, unless values align, an innovation may not spread even where there is good evidence to support its benefits.
Commenting on the research award, Professor Swan said: "Innovation in the delivery of social care is needed more than ever as demands and challenges grow, particularly in homeless services where users have a complex range of shelter, health, and other care needs. We are excited to be starting our research in an area of major social impact, something that all business schools should be doing."
Professor Swan and Dr Manning will carry out qualitative research with homeless service providers and users across services that use different models of care; notably, 'Staircase' and 'Housing First'. The Staircase model, which is currently widespread, involves a staged approach whereby homeless people are treated by professionals (e.g. for underlying conditions) until they are well enough to be progressed through shelters to transitional and then into permanent housing. The Housing First innovation, in contrast, aims to move people directly from homelessness to permanent housing, with social and health improvements seen as flowing from having a permanent home. The Housing First model has been shown to be more effective in reducing long-term homelessness but, despite this, has been slow to spread across contexts, in part because its underpinning values can conflict with those of service providers and users. The findings of Professor Swan and Dr Manning's research will be used to develop a methodology that social care organisations can use to better achieve the values alignment needed to encourage the implementation of new models of care.
Commenting on the RfPB programme, Lyn Romeo, Chief Social Worker at the Department of Health and Social Care, said: "Access to high quality research and evidence is essential if we are to understand the approaches and interventions that work and why. As social workers and social care professionals, we must always remember to challenge ingrained thinking and consider how we can improve our decision-making and the habits and systems we take for granted in our everyday work.
"This research programme and the new annual funding call are a real boost for social work and social care, and I look forward to seeing these innovative projects lead to insights and knowledge that will improve people's lives."