WBS Digital Health Forum
20 August 2018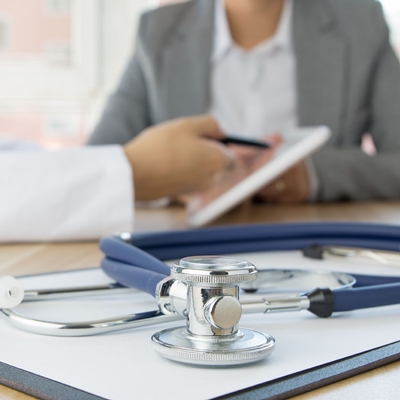 Monday 18 June 2019 saw academics, clinicians, senior health tech managers and policymakers come together at WBS at The Shard for the third Digital Health Forum, co-hosted by Warwick Business School, and Cambridge Digital Innovation at Hughes Hall and Cambridge Judge Business School
The day was filled with lively debate from different stakeholder perspectives and focussed on the topic of 'Scaling digital health innovations through platforms'.
Professor Panos Constantinides, Warwick Business School, began with a welcome and introduction of the Forum topic.
Professor Geoffrey Parker, Professor, Thayer School Engineering, Dartmouth College, Director, Master of Engineering Management Program and Research Fellow, MIT Initiative on the Digital Economy, delivered a powerful keynote speech to start the day entitled 'The platform revolution and healthcare', explaining the reasons why the healthcare sector has been so slow to adopt digital platforms, the challenges facing platform companies in entering the healthcare market, and advice on how to successfully ensure adoption of platforms across networks within healthcare. Geoffrey's slides are available to download here:
Session one saw presentations from two innovative companies currently scaling innovations in Healthcare:
Adrian Hosford, Founder of Moodscope, a wellbeing app which aims to track your mood throughout each day to identify different triggers. Moodscope are currently crowdfunding and their website can be found here: https://www.moodscope.com/
Stephen Johnston, Founder of Aging2.0, an established global, volunteer-led ecosystem focused on innovations to support the challenges of aging. More information on Aging2.0 can be found here: https://www.aging2.com/
A panel of experts then lead discussion on challenges and ideas to scale up each company having heard the two presentations. Expertise on the panel were Alan Barrell, Venture Capitalist with an investor perspective, Amanda Begley, Director of Innovation and Implementation at UCL Partners with an ASHN perspective, Nigel Edwards, CEO, Nuffield Trust with a Health System perspective and Veronica Yannoulopoulos from a user engagement perspective.
Professor Samer Faraj, McGill University delivered the second interesting keynote speech of the day, entitled 'Robotic platforms in surgery: balancing innovation and cost'. Samers' presentation introduced the audience to the future of surgery using The DaVinci Robot as an example and sharing the impact this would have on resources, costs and most importantly patients. Unfortunately we are unable to share Samer's slides publicly.
The final panel discussion of the day addressed 'The accessibility of patient data and scaling through platforms.' The panellists were David Kennedy, Commercial Director from ZSAH with a legislation perspective, Professor Marleen Huysman from Vrije University Amsterdam with a research perspective, Dr. Azhar Ansari from Surrey and Sussex Healthcare NHS Trust with a clinical perspective and John Crawford, Healthcare Industry Leader Europe at IBM with an industry perspective.
Topical points from the day included:
Online platforms and infrastructure are critical to integrate across primary care and secondary care
Navigating digital ecosystems essential to support patients/users across health and wellness pathways
New online labour platform models are emerging that could open up opportunities for new relationships between individual healthcare professionals and healthcare trusts as well as wider members of health ecosystem.
Adoption of digital innovations across healthcare ecosystems is not an easy task, it is often easier to enter this market with a competitive product or platform than a brand new product!
Some ACO organizations have been working on flexible contracting models with specialised physicians and could extend their model through online labour platforms enabling healthcare professionals to seek and provide their expertise and skills on an on-demand basis.
Data management practices, and clear ethical standards of practice are required in addition to reputation and trust building.
The forum was followed by an evening of networking with dinner and music.
Feedback:
"A thought provoking discussion with diverse attendees – great industry insight"
"Useful to hear from different industry perspectives on what the real challenges and opportunities are to scale innovations in healthcare!"
MSc in Strategic Leadership and Innovation in Healthcare
Executive MBA with Healthcare Specialism