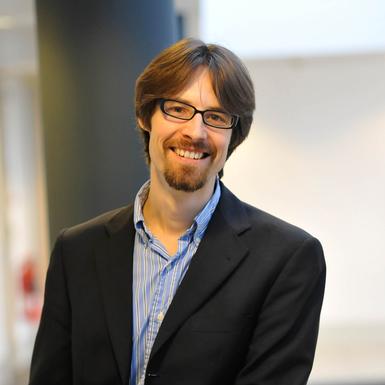 Research Interests
Christian's research examines how organizations can achieve sustainable competitive advantage. He is particularly interested in questions related to 1) learning and innovation, as well as 2) diversification. He is also a member of the Editorial Board of the Strategic Management Journal.
Teaching in 2015-2016
Research Students
IB9EK0: Advanced Issues in Strategy and International Business
Executive MBA
IB9S90: Strategic Advantage
Executive MBA (London)
IB9S9L: Strategic Advantage
Management
IB91S0: Strategy Analysis and Practice
Executive MBA
IB9T10: Strategy and Practice
Biography
Christian Stadler is a Professor in Strategic Management. Prior to joining Warwick Business School he was at University of Bath School of Management, Tuck School of Business at Dartmouth, and Innsbruck University.

Christian is an expert on long-term success. For the past decade he devoted his energy to the investigation of long-living corporations - how they grow, adapt, and consistently beat their competitors. His work has been featured in the Harvard Business Review, Sloan Management Review, New York Times, Wall Street Journal, Financial Times, Bloomberg Business Week, Fast Company, Fortune/CNN, and the BBC, and has been translated into 11 languages.

Blogs

Recent Publications
Journal Articles
Stadler C., Mayer M., Hautz J.. "Few Companies Actually Succeed at Going Global"
Harvard Business Review (2015)
Matzler K., Veider V., Hautz J., Stadler C.. "The impact of family ownership, management and governance on innovation"
Journal of Product Innovation Management 32 (2015): 319-333.
Nocker E, Bowen H., Stadler C., Matzler K.. "Capturing relatedness: comprehensive measures based on secondary data"
British Journal of Management forthcoming (2015)
Hautz J., Mayer M., Stadler C.. "Macro-Competitive Context and Diversification: The Impact of Macro-Economic Growth and Foreign Competition"
Long Range Planning 47 (2014): 337-352.
Mayer M., Stadler C., Hautz J.. "Are product and international diversification substitutes or complements?"
Strategic Management Journal forthcoming (2014)
Stadler C., Rajwani T., Karaba F.. "Solutions to the exploration-exploitaiton dilemma: networks as a new level of analysis"
International Journal of Management Reviews 16 (2014): 172-193.
Stadler C., Helfat CE., Verona G.. "The impact of dynamic capabilities on resource access and development"
Organization Science 24 (2013)
Hautz J., Mayer M., Stadler C.. "Ownership Identity and Concentration: A Study of their Joint Impact on Corporate Diversification"
British Journal of Management 24 (2013): 102-126.
Stadler C., Dyer C.. "Why Good Leaders Don't Need Charisma"
MIT Sloan Management Review 54 (2013): 94-95.
Stadler C.. "Process Innovation and Integration in Process-Oriented Settings: The Case of the Oil Industry"
Journal of Product Innovation Management 28 (2011): 44-62.
Berchtold S., Pircer R., Stadler C.. "Global integration versus local adaptation: a case study of Austrian MNCs in Eastern Europe"
European Journal of International Management 4 (2010): 524-549.
Stadler C.. "Four Principles of Enduring Success"
Harvard Business Review 85 (2007): 62-72.
Stadler C., Hinterhuber H.. "Changing companies with strong values: Shell, Siemens and DaimlerChrysler."
Long Range Planning 38 (2005): 467-484.
Matzler K., Rier M., Hinterhuber, H., Renzl B., Stadler C.. "Methods and concepts in management: significance, satisfaction and suggestions for further research: perspectives from Germany, Austria and Switzerland."
Strategic Change 14 (2005): 1-13.
Books