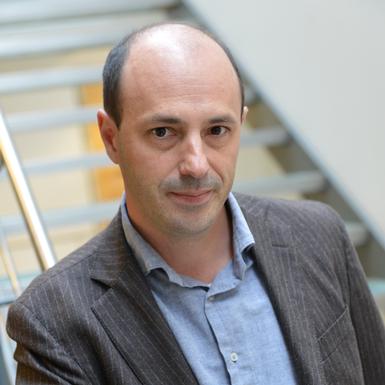 Research Interests
European integration and industrial relations, including both multinational companies going East, and employees going West. Currently comparing industrial relations and internationalisation in the six largest EU countries, studying active inclusion labour market policies, and investigating the under-representation of vulnerable groups in the labour market.
Teaching in 2016-2017
Human Resource Management & Employment Relations
IB96L0: Comparative Employment Relations
Research Students
IB9EI0: Theories of Organisations and Organising in Management Research
Undergraduate
IB3860: International Business in Context
IB3900: Year Abroad Portfolio
Biography
Guglielmo Meardi arrived to Warwick in 1999, after studying in Italy, France and Poland. He has held visiting positions at the Hungarian, Polish and Slovenian Academies of Sciences, and at universities in Belgium, Canada, France, Germany, Italy, Poland and Spain. He is a member of the editorial boards of "European Journal of Industrial Relations", "Emecon", "Industrielle Beziehungen", "Sociopedia" (encyclopedia of the International Sociological Association) and (until 2010) "Work, Employment and Society". He led the organisation of the Work, Employment and Society Conference at Warwick in 2013.
Publications
Journal Articles
Journal Items
Meardi, G., Martín, A. and Van den berg, A. (2016) "A Canadian immigration model for Europe? Labour market uncertainty and migration policy in Canada, Germany and Spain", Comparative Social Research, 32
Guglielmo Meardi (2011) "Social pacts : a western recipe for Central and Eastern Europe? ", Warsaw Forum of Economic Sociology, Vol.2, 73-87
Book Reviews
Guglielmo Meardi (2011) "Review of One company, diverse workplaces : the social construction of employment practices in Western and Eastern Europe, by Kahancová, M.", Sociologicky Casopis, Vol.47, No.3, 593-596
Guglielmo Meardi (2009) "Review of Labour relations in central Europe. The impact of multinationals' money, by Tholen, J. with Cziria, L., et al.", British Journal of Industrial Relations, Vol.47, No.1, 196-198
Book Items
Guglielmo Meardi (2012) "Industrial relations after European state traditions?", 100-123, Edward Elgar, Cheltenham
Meardi, G., Strohmer, S. and Traxler, F. (2011) "MNC social transfers to CEE : British, US, Austrian and German experiences reviewed", 29-44, Palgrave Macmillan, Basingstoke ; New York
Guglielmo Meardi (2011) "Labour mobility, union immobility? Trade Unions and migration in the EU", 77-97, Peter Lang, Frankfurt am Main
Guglielmo Meardi (2010) "Lights and shadows of employee participation in the new EU member states", 211-221, Peter Lang, Frankfurt am Main
Gardawski, J. and Meardi, G. (2010) "Keep trying? Polish failures and half-successes in social pacting", 371-394, ETUI, Brussels
Marginson, P. and Meardi, G. (2010) "Multinational companies : transforming national industrial relations? ", 207-230, John Wiley & Sons, Chichester, West Sussex, U.K
Guglielmo Meardi (2009) " A suspended status : the puzzle of Polish workers in the West Midlands", 102-122, Edward Elgar, Cheltenham
Meardi, G. and Fichter, M. (2008) "Production relocation. Impacts on home, host and cross-border industrial relations", No.63, 135-156, P.I.E. Peter Lang, Brussels ; New York
Books
Guglielmo Meardi (2015) "Comparative employment relations in Europe : work and democracy under international pressure ", Routledge, London. 9780415637916
Guglielmo Meardi (2012) "Social failures of EU enlargement : a case of workers voting with their feet", No.25, Routledge, New York. 9780415806794
Burroni, L., Keune, M. and Meardi, G. (2012) "Economy and society in Europe : a relationship in crisis", Edward Elgar Publishing Limited, Cheltenham . 9781849803656
Report