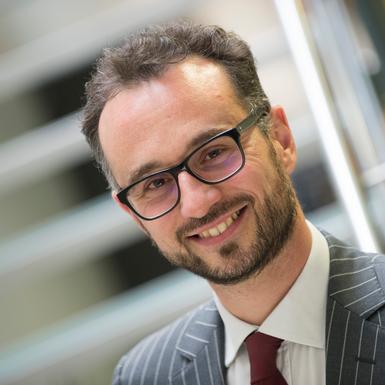 Research Interests
Pietro's research and consulting interests focus on:

Performance management and improvement: Pietro has undertaken research on the design, use and impact of performance measurement systems, and on the introduction of performance improvement initiatives in private and public sector organizations. His research papers have been published in leading academic journals such as Public Administration Review, the International Journal of Operations and Production Management, Long Range Planning, and Management Accounting Research.

Innovation management: Pietro has worked in the areas of design management and new product development. His research has resulted in publications on the Journal of Product Innovation Management and on Research Technology Management.

Currently, he is looking at how design and design thinking can trigger incremental and radical innovation, and how performance measurement systems can help organizations learn and improve.
Teaching in 2014-2015
Undergraduate
IB3A90: Design in Business
Management
IB98A0: Design in Business
Marketing & Strategy
IB98AK: Design in Business
Executive MBA
IB9BY0: Managing Organisational Performance
Research Students
IB9EH0: Recent Advances in Operations Management
Biography
Pietro is Associate Professor of Organizational Performance at Warwick Business School. He was awarded a PhD and a Master by Research in Management from Cranfield School of Management, and a Master in Management and Production Engineering from the Politecnico di Milano. Pietro is a founding member of the Evidence-based management collaborative in the US, and worked as a Research Fellow for the Advanced Institute of Management (AIM) Research in London.
Pietro has worked with, and consulted to, a number of organizations, including Amec, BAT, BP, British Energy, KLM, Morgan Carbon, Orange, Shell, Veolia Water, Wartsila, Council of Europe, UK Department of Health, House of Lords, National Audit Office, UAE Government and the United Nations. In 2010-2011 he worked as Director of the Italian Commission for public sector evaluation in Rome.
Pietro has lectured in over a dozen European academic institutions. He speaks fluent English, Italian, French and Spanish.
Recent Publications
Journal Articles
Micheli, P. and Mari, L.. "The theory and practice of performance measurement"
Management Accounting Research 25 (2014): 147-156.
Micheli. P., Jaina, J., Goffin, K., Lemke, F. and Verganti, R.. "Perceptions of product design: the "means" and the "ends""
Journal of Product Innovation Management 29 (2012): 687-704.
Schoeman, M., Baxter, D., Goffin, K. and Micheli, P.. "New Contractual Models and Organisational Forms as an Enabler of Public Sector Innovation"
Public Money and Management 32 (2012): 425-432.
Micheli, P., Schoeman, M., Baxter, D. and Goffin, K.. "Successful technological innovation - Adopting new business models in the public sector"
Research Technology Management 55 (2012): 51-57.
Micheli, P., Mura, M. and Agliati, M.. "Exploring the roles of performance measurement systems in strategy implementation: the case of a highly diversified group of firms"
International Journal Of Operations And Production Management 31 (2011): 1115-1139.
Buytendijk, F., Hatch, T. and Micheli, P.. "Scenario-based strategy maps"
Business Horizons 53 (2010): 335-347.
Micheli, P. and Neely, A.. "Performance measurement in the English public sector: Searching for the golden thread"
Public Administration Review 70 (2010): 591-600.
Goffin, K. and Micheli, P.. "Maximizing the value of industrial design in new product development'"
Research Technology Management 53 (2010): 1-9.
Micheli, P. and Manzoni, J.-F.. "Strategic performance measurement: benefits, limitations and paradoxes"
Long Range Planning 43 (2010): 465-476.
Franco-Santos, M., Kennerley, M., Micheli, P., Martinez, V., Mason, S., Marr, B., Gray, D. and Neely, A.. "Towards a definition of a business performance measurement system"
International Journal Of Operations And Production Management 27 (2007): 784-801.
Baines, T., Lightfoot, H., Evans, S., Neely, A., Greenough, R., Peppard, J., Roy, R., Shehab, E., Braganza, A., Tiwari, A., Alcock, J.R., Angus, J., Bastl, M., Cousens, A., Irving, P., Johnson, M., Kingston, J., Lockett, H., Martinez, V., Micheli, P., Tranfield, D., Walton, I. and Wilson, H... "State-of-the-art in product-service systems"
Proceedings Of The Institution Of Mechanical Engineers Part B 221 (2007): 1543-1552.
Micheli, P. and Kennerley, M.. "Performance measurement frameworks in public and non-profit sectors"
Production Planning & Control 16 (2005): 125-134.
Books
Dr Pietro Micheli. "Leading Business by Design"
(2014)
Gray, D., Micheli, P. and Pavlov, A.. "Measurement Madness: Recognising and avoiding performance measurement pitfalls"
Chichester, UK (2014)
Book Chapters
Dr Pietro Micheli. "Pubblica amministrazione: dalla forma alla sostanza"
Non ci resta che crescere - Riforme: chi vince, chi perde, come farle (2011)
Dr Pietro Micheli. "Promoting a culture of performance management in public sector organisations"
Holy grail or achievable quest? International perspectives on public sector performance management (2008)