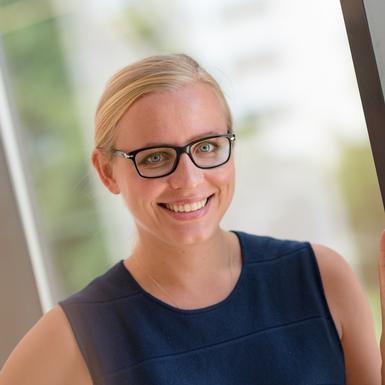 Research Interests
Mareike's research sits at the cross section of information systems management, marketing (online consumer behavior), and social issues in management. Her research focuses on the sharing economy, platforms, digital trust, algorithmic management, and new ways of working in the digital age. Among others, she has worked with data from users/stakeholders of car2go, Airbnb, Uber, and BlaBlaCar.

Keywords: Algorithmic management, platforms, sharing economy, gig economy, digital trust, online consumer behaviour, surveys, experiments, structural-equation modelling, quantitative and qualitative research, mixed methods, data science.
Teaching in 2018-2019
MSc Business
IB961B: Digital Marketing Technology and Management
Management of Information Systems & Digital Innovation
IB9610: Digital Marketing Technology and Management
IB94C0: Dissertation MSISDI
Undergraduate
IB2630: Design Thinking for Digital Innovation
Biography
Room number: WBS 3.231
Phone: +44 (0) 24765 22801


Mareike Möhlmann is Assistant Professor of Information Systems & Management at Warwick Business School (since 2016). Currently, she is also works as a teaching fellow at the London School of Economics. Previously she worked as a postdoctoral researcher at the Stern School of Business, New York University, USA (2015-2016). She received her doctoral degree in Business Administration/Management at the University of Hamburg, Germany (2012-2015).

Mareike holds a M.Sc. in Management from the London School of Economics, UK, and an B.A. in Communication/Media Science and Political Science from LMU in Munich, Germany. Furthermore, she was a visiting student at the Institut d'Etudes Politiques de Paris (Sciences Po), France. Before starting her career in academia she worked in international governance for the United Nations (UNEP) in New York.

Among others she was awarded with a generous grant of the Fritz Thyssen Foundation in 2015 and a Post-doc Research Grant the German Academic Exchange Service (DAAD) in 2015. Her work has been published in international journals and presented at several international conferences, including ICIS and AOM.

Her work and comments have been featured in media outlets such as The Times, The Telegraph, the Financial Times, the BBC, the World Economic Forum, The Independent, The Conversation, and many more.

Selected published working papers and conference publications:

Möhlmann, M. and Zalmanson, L. (2017): Hands on the wheel: Navigating algorithmic management and Uber drivers' autonomy, proceedings of the International Conference on Information Systems (ICIS 2017), December 10-13, Seoul, South Korea. 
 
Hawlitschek, F., Teubner, T., Adam, M. T. P., Borchers, N. S., Möhlmann, M., Weinhardt, C. (2016): Trust in the sharing economy: An experimental framework, proceedings of the International Conference on Information Systems (ICIS 2016), December 11-14, Dublin, Ireland, pp. 1-14. 

Möhlmann, M. (2016): Digital Trust and Peer-to-Peer Collaborative Consumption Platforms: A Mediation Analysis, published as SSRN paper, available at http://ssrn.com/abstract=2813367. 

Möhlmann, M. (2016): Why People Trust Sharing Economy Strangers More Than Their Collegues, The Conversation UK (20 Dec 2016), among others reprinted in The Business Insider, Economia, and The World Economic Forum.

Find more information about current academic projects, conference publications, industry reports, and media coverage on her personal website: www.mareikemoehlmann.com

Publications
Journal Articles
Book Items
Mohlmann, M., Teubner, T. and Graul, A. (2019) "Leveraging trust on sharing economy platforms : reputation systems, blockchain technology, and cryptocurrencies",,
Möhlmann, M. and Geissinger, A. (2018) "Trust in the sharing economy : platform-mediated peer trust", Cambridge University Press, Cambridge
Report
Ozcan, P., Möhlmann, M. and Krishnamoorthy, C. (2018) "Who shares and who doesn't? Results of the UK Sharing Economy Consumer Survey 2017"