Harvard and WBS to inject creativity into education
08 January 2015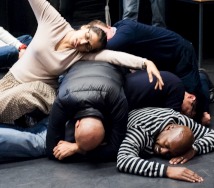 With the number of people signing up to MOOCs rising and online courses proliferating business schools around the world, giving potential students a richer learning experience at university campuses is becoming ever more imperative.
Warwick Business School has responded by developing 'active learning' where students are taken out of the comfort of their chairs to join and work together through mini-case studies, role-playing different scenarios, creating music and even seeing their discussions animated by a cartoonist.
It has devoted a department – WBS Create – to inject active learning into its classes, like creating a case study that uses ancient Greek land Thebes from the story of Antigone as an emerging market.
Now Harvard University is in discussions with Warwick Business School to explore new ways of learning that will offer far more than 'chalk and talk'.
"People can learn a lot of things online but if they are going to come to a university much of what they can learn is inter-personal, working with each other, with the faculty, being physically present," said Terry Aladjem, Director for Special Initiatives at the Derek Bok Center for Teaching and Learning at Harvard University, who is a Visiting Fellow at the University of Warwick.
"They learn not just what they study, but about the process of learning itself - and that is a real gift."
WBS Create has provided its faculty with an A-Z teaching toolkit on how to use 'active learning' in their modules. For instance students may find themselves acting as consultants looking to invest in Thebes, the land and setting for Sophocles' Greek tragedy Antigone, and are set to meet its ruler Creon.
"It is an emerging market, with huge potential, but in a state of chaos," said Ashley Roberts, Assistant Dean at WBS Create. "The students have to take on a role and work out what is needed in Thebes to invest in it. It sees students work together and to work to real world specifications and expectations. The playfulness of the imagined task and roles encourages students to look for possibilities, experiment, not be afraid to be wrong and find an effective consensus.
"Playing a role allows students to inhabit different intellectual positions, while relating the theory to professional tasks often encourages critical thinking, and the questioning of ethical and moral concepts. The teacher responds to the students as if they were professionals and this changes the traditional lecturer and student dynamic."
Rather than a room full of chairs lined up towards a white screen, 'active learning' sees classes in open spaces, ready for plenty of moving around.
Mr Roberts added: "We want to get people moving and experiencing the subject with all their senses. Using arts-based methods like dance, drama and music allows them to have a much more interactive learning experience, it is richer and in the end more enjoyable than passively taking in information.
"Faculties everywhere want to be creative but they don't have the time or the mandate, so we have a department that engages with them and asks that of them. Using Thebes as an investment opportunity is just one example of this."
Warwick and Harvard are researching how creative learning through the arts impacts on students and how it can be implemented in the lecture theatre.
Professor Jonothan Neelands, head of WBS Create, said: "There is plenty of research detailing how using the arts and getting students out of their seats improves their ability to learn. We want to build on this and explore ways of employing this in the lecture rooms of the top universities in the world, such as Warwick and Harvard. We want our students to leave not just with the knowledge, but with the ability to be creative and critical thinkers."
Education advisor Sir Ken Robinson, a former Professor of Arts Education at the University of Warwick, famously said western schools are "educating people out of their creativity" to become good workers. Warwick Business School is determined to reverse that trend and Dr Aladjem believes being part of the story helps students learn.
"I think active learning makes it memorable," said Dr Aladjem. "The goal of education is to remember what you have learned. It is one thing to hear a story or read a story, but it is another thing entirely to be in a story - students will remember it. The other exciting thing they are learning is that there is no right answer; there is no moral, only what you think in the end. It is a real lesson in critical thinking, which is culturally challenging for students. They experience the dilemma, so it is not easy to decide.
"Universities have to figure out and articulate what we have to offer that is different from the online world and why it is special, engaging with each other and engaging with the physical space. This use of theatre as story-telling with students actively involved in the process is wonderful."
Ashley Roberts teaches Organisational Behaviour on the Warwick Executive MBA and Warwick MBA by distance learning as well as Warwick Business School's Undergraduate courses.