Case challenge to tackle global ageing population
19 April 2016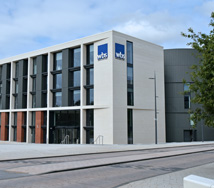 Case challenge to tackle the pressures of a global ageing population
Eight teams from some of the world's top business schools to compete
Sponsored GE Healthcare winners will pocket £4,500 after two-day battle
Alliance Manchester Business School return to defend their title
A competition starts on Friday to help tackle the global ageing population that is causing huge problems to healthcare systems across the world.
The World Health Organization (WHO) expects the number of people aged more than 60 years-old to more than double and reach a staggering two billion by 2050 - that will be 21.1 per cent of the world's population.. This will bring new challenges to global healthcare systems, with the demand for elderly care increasing significantly.
Warwick Business School's fourth annual Healthcare Case Challenge, sponsored by GE Healthcare and GE Healthcare Finnamore, asks teams to create solutions that provide the right care, at the right time, in the right place to a specific cohort of the elderly population, with the winners pocketing £4,500.
As well as a team from Warwick, students from the Birmingham Business School, Cranfield School of Management, London Business School, Nottingham University Business School, Alliance Manchester Business School, Rotterdam School of Management, Erasmus University (RSM), Said Business School, and SDA Bocconi School of Management will be taking part in the two-day competition starting on Friday (April 22), with the final pitches on Saturday (April 23).
"MBA students will apply their business and economic knowledge to collaborate with students of other disciplines, such as medical and engineering, to create innovative solutions in healthcare", said Farah Abdulhadi, Director of the WBS Case Challenge.
Last year's competition saw eight teams from top business schools competing, with Alliance Manchester Business School taking away the grand prize ahead of Said Business School, who were the winners in 2014.
Ms Abdulhadi added: "This student-led event offers participants the opportunity to network with MBAs and masters students from across the globe and with a plethora of people from the healthcare industry, including academics, researchers and potential graduate employers.Teams must have six postgraduate and masters students, at least three of which must be MBA students, but it has been designed to encourage the intermingling of diverse disciplines.
"Not only was GE Healthcare pleased to take on board some of the innovations presented at the event last year, but they also offered a permanent role in their organisation to one of the participants.
"This competition provides an opportunity for MBA students to further explore new career avenues by solving stimulating business problems."
To ensure a level playing field all the teams have been mailed a part of the case study, which will provide a background on the healthcare industry, a month before the actual event. An expert panel of judges has been tasked with selecting the best solution as presented by each team.