Having a union rep can boost job quality and productivity
13 March 2015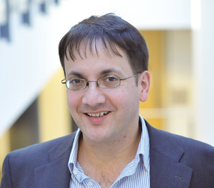 Having a union rep in the workplace improves job quality for employees by reducing their levels of stress, improving their work-life balance, and improving their well-being, according to new research.
This is important because higher job quality can lead to higher productivity and fewer workers quitting their job.
The paper Union representation, collective voice and job quality: an analysis of a survey of union members in the UK finance sector by Professor Kim Hoque, of Warwick Business School, John Earls of the Unite trade union, Neil Conway of Royal Holloway, University of London and Nick Bacon of Cass Business School, analysed a survey conducted by Unite involving union members from the UK finance sector.
Professor Hoque said: "Job quality is not only important to the individual worker, but to the organisation or company as well. Job quality has been closely linked to job satisfaction, which in turn has been identified as an important element of higher productivity. It also leads to fewer workers leaving and lower absenteeism, both of which have an economic benefit to the organisation.
"Having a union representative on site seems to help improve workers job quality; this could be an important finding for companies looking to improve productivity as well as conditions for workers."
The research, which is due to be published shortly in the journal Economic and Industrial Democracy, analysed responses from 3,087 members employed across 174 companies. A large proportion of the respondents (41 per cent) were from the large banks, while 13 per cent were from large insurance companies.
The finance sector has a relatively high proportion of union representation. Union presence - defined as the proportion of employees whose workplace has a union present - was reported as 43.3 per cent in the finance industry. In the UK 24 per cent of workplaces in 2004 and 21 per cent of workplaces in 2011 had a recognised trade union, having fallen from 64 per cent of workplaces in 1980.
Professor Hoque said: "Respondents' perceptions of three of the four aspects of job quality under observation - job content, work-life balance and job stress were more favourable where an onsite representative was present, although the association was weak for job stress."
But the research found no evidence of an association between onsite representative presence and job security.
"This might be seen as unsurprising given that employer concessions to union demands for greater job security may lead to significant additional labour costs in the event of a downturn, hence employers may be particularly resistant to attempts to influence this," said Professor Hoque.
"What's more, decisions on these matters may also be beyond the sphere of onsite union representatives' influence at a local level."
Professor Hoque believes the results of the survey support the 'positive voice effects' hypothesis posited by Harvard University's Richard Freeman and James Medoff.
He said: "Under this theory, job quality will be higher where an onsite representative is present, and that this is explained by the higher levels of collective voice that such representatives engender.
"If unions voice their members' job quality concerns via either informal communication channels or collective bargaining processes, this will bring job quality problems to the attention of management, who will then subsequently respond by making changes within the workplace to seek to address these problems.
"It is possible to argue by boosting job quality via voice effects, onsite union representatives are contributing indirectly towards a range of socio-economic outcomes including: higher overall individual well-being, higher job satisfaction, higher productivity, fewer workers quitting, lower absenteeism, smoother labour market transitions and higher labour market participation rates.
"As such, any future moves to weaken rights to time-off (as already witnessed in the British civil service) that reduce the ability of onsite union representatives to boost job quality via the enhancement of collective voice could in turn reduce the indirect positive influence of onsite union representatives on such socio-economic outcomes outlines."
Professor Kim Hoque teaches the Introduction to Human Resource Management and Employment Relations in Britain on the Human Resource Management & Employment Relations as well as Equality and Diversity on a number of Undegraduate courses at Warwick Business School. He also teaches the Introduction to Human Resource Management module as part of the new MSc Human Resource Management & Employment Relations part time course in London.