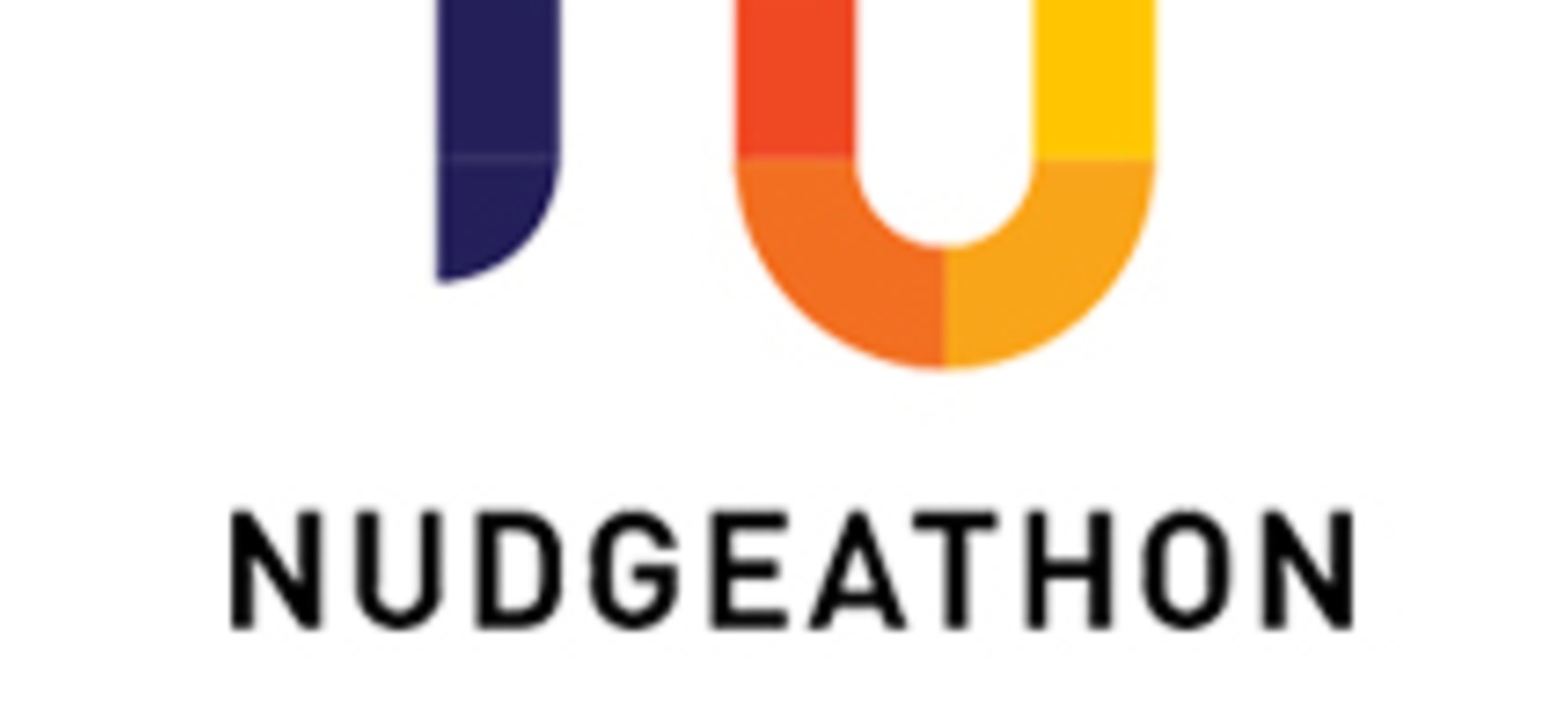 Team Collabrrration win Nudgeathon with a package of energy-saving nudges
Competition was on using behaviour science to help cut energy use
Winning idea involves heat imaging cameras, texts, stickers and rewards
The students will see ideas trialled on the University of Warwick campus
Personalised heat maps and text messages were part of the winning scheme at a Nudgeathon that asked teams to come up with energy-saving ideas.
Team Collabrrration - consisting of Romil Depala and Olivia Stevens, of the University of Oxford, Daniel Banki and Rory Flanagan, of the University of Warwick, and Gervase Poulden and Rhea George, of City University London - won £500 after judges decided their use of stickers, text messages, heat maps, feedback and rewards of discounts at campus restaurants was the best solution after two days of brainstorming at Warwick Business School.
Inspired by Hackathons, the Nudgeathon saw six teams, made up of students from 24 countries, set the task of using insights from behavioural science to develop nudges - to tackle energy saving problems in a competition sponsored by First Utility, Recycling Technologies and the Interdisciplinary Centre for Storage, Transformation and Upgrading of Thermal Energy (i-STUTE).
The Climate Change Act committed the UK to reducing its carbon emissions 80 per cent below 1990 levels by 2050, which means a reduction of three per cent each year, but as part of reducing the country's dependence on fossil fuels it will also mean changing the way people use energy in their homes as well as.
Team Collabrrration's Rory, a BSc Psychology student at the University of Warwick, said: "It was quite a surprise to win and obviously we were very happy. Our idea was a package of nudges targeting immediate behaviour and then re-enforcing the behaviour with feedback and an incentive to get a proportion of the savings on the heating bill on the students' Eating at Warwick cards.
"It was a great event and a fantastic way to meet a lot of people from all over the globe. I really enjoyed the process and the fact our idea could be implemented at the University of Warwick is exciting.
"I learned a great deal about energy consumption and working in a team, plus there were some really insightful talks that truly inspired us."
How can behavioural science be used to cut energy use?
The Judges - Adrian Griffiths, Managing Director of Recycling Technologies; Bill Wilkins, Chief Information Officer at First Utility; and Alison Chappell, Head of Change Management and Continuous Improvement at RWE - felt there were a host of good ideas, but that Team Collabrrration just had the edge and they will now see their idea contribute to the University of Warwick's new Sustainability Strategy, which will be promoted during Go Green Week that runs from March 6 to 12.
Daniel Read, Professor of Behavioural Science, said: "The Nudgeathon was a great success with some really interesting ideas. Team Collabrrration just got the edge because they looked at how they would maintain the intervention that they had come up with, so it was not a short-term solution but one that could be managed as a permanent change in behaviour.
"It really was a very innovative use of many insights from behavioural science. But there were a lot of great ideas and we will now be working with the University at putting together a task force and seeing how these ideas can be trialled and assessed on the campus, which is very exciting for everybody involved."
The students were given a crash course in 'nudging', which uses theories from behavioural science to develop subtle interventions to persuade people to behave how they would like to, like persuading more households to have their lofts insulated before embarking on developing their own solutions.
Using anchoring to nudge people into saving energy
The brief focused on reducing the energy bill at the University of Warwick, which is roughly the size of a town with 30,000 people emitting around 43,000 tonnes of greenhouse gases and an energy bill of more than £8 million a year.
Team Collabrrration used the idea of 'simplification', proposing smiley faces instead of numbers for the dial on radiators and adapting the behavioural science concept of 'anchoring' to place a green smiley face at the most efficient setting, with redder and more unhappier faces for hotter settings.
Another behavioural science insight into the importance of 'prompting' saw them propose sending text messages to students just before holidays to switch off the heating, though they would experiment with the exact content.
And the concept of 'ranking' and 'descriptive norms' saw them come up with the idea of using heat imaging cameras to take pictures of student's rooms and then post them in dormitory kitchens, so students could compare with each other.
While 'habit formation' was applied using stickers next to front doors, reminding students of a checklist of things before they leave - key, wallet, phone and switching off the heating.
These nudges were re-enforced with an incentive of the savings on heating bills being put on their Eating at Warwick discount cards.
Umar Taj, a WBS PhD student and the main co-ordinator for the Nudgeathon, added: "The students were really engaged in the competition, some were working until 2am on their ideas.
"We have had some great feedback from everybody involved and I think many of the students realised how focusing on small problems can help tackle monumental challenges like reducing the country's carbon footprint.
"While meeting other like-minded people from all sorts of different backgrounds all with the mindset of looking to do some social good was very inspiring for everybody involved."
Professor Daniel Read teaches Behavioural Science for Managers on the Executive MBA and Sustainability and Business Ethics on the Full-time MBA. He also teaches Emotions in Business and Strategic Games on the Undergraduate programme.