Distance learning MBA ranked world number one
23 February 2016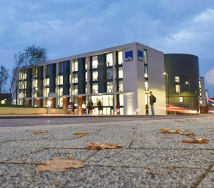 WBS Distance learning MBA named number one in world by QS
WBS one of seven UK institutions in the top 10
Biggest ever report by QS featuring 30 institutions
18 Performance indicators utilised for ranking
Warwick Business School has been named the number one provider of Distance learning and online MBA programmes according to the 2016 QS World Online MBA Rankings.
Established more than 30 years ago the WBS Distance learning MBA combines online lectures, tailor-made multimedia study materials, the highly-interactive my.wbs platform, and WBSLive - a virtual classroom - with one face-to-face module and two weeks spent at the Warwick campus. Taken part-time over three years, it allows students to balance their studies with their working life.
WBS is one of seven UK institutions in the top 10 this year. In total 30 online MBAs have been ranked – the largest ever report undertaken by higher and business education analysts QS (Quacquarelli Symonds).
The 18 performance indicators used to calculate the ranking are wide-ranging and rigorous, and include:
Perceptions of employers of MBA graduates
Quality and diversity of students and faculty
Level of accreditation (WBS is triple-accredited and the first in the UK to achieve this)
Teaching and learning experience
QS also use student quality, employability, how long the online MBA has been established and class experience as ways to measure an institution's overall performance.
Professor Mark Taylor, Dean of Warwick Business School, said: "To see our Distance learning MBA ranked number one in the latest QS report is an excellent result for Warwick Business School.
"At WBS reputation matters and exemplary rankings such as this contribute to our reputation. To not only be recognised as providing the best Distance learning MBA in the UK, but in the world too, shows our desire to relentlessly pursue excellence in both teaching and research.
"However success cannot be garnered by standing still, as such we will endeavour to continue to utilise and develop the best interactive web-based resources and online study materials possible to bring the same quality and creative teaching to our Distance learning MBAs as is enjoyed by our students here on campus."
The QS Intelligence Unit (QSIU) was formed in 2008 and the QS Distance/Online MBA Ranking has been running since 2012.
For a programme to be considered for the QS Distance Online MBA Ranking it must have accreditation from AACSB, AMBA, EQUIS or EPAS, at least one graduating class and a minimum threshold of votes in the annual QS Global Employer Survey.
The WBS Distance learning MBA is currently ranked second in the world by the Financial Times.
The complete QS Distance Online MBA Rankings can be viewed here.
More information on the Warwick MBA here.