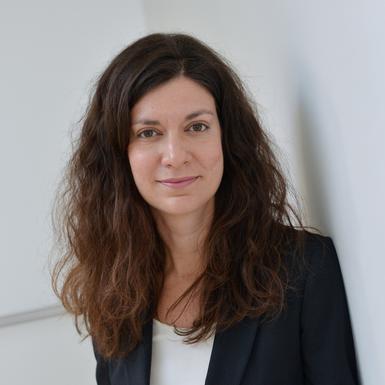 Research Interests
Ana Galvão research interests are on empirical macroeconomics, forecasting, and nonlinear time series models. Her research has been widely published in leading academic journals such as the Journal of Econometrics, the Journal of Business and Economics Statistics, the Journal of Money, Credit and Banking, the Journal of Applied Econometrics, the European Economic Review and the International Journal of Forecasting.

Personal Website: https://sites.google.com/site/anabgalvao/
Teaching in 2019-2020
MSc Business
IB9150: Forecasting for Decision Makers
MSc Central Banking and Financial Regulation
Biography
Ana Beatriz Galvão is Professor of Economic Modelling and Forecasting at Warwick Business School, University of Warwick. She joined Warwick in 2013 from the School of Economics and Finance of Queen Mary, University of London.
She was the principal investigator of an ESRC-funded research project on "Economic Forecasting under Macroeconomic Uncertainty" over the 2013-2015 period. Since April 2017, she is working on a ONS-funded project on "Measuring and Communicating Data Uncertainty".
She is currently Associate Editor of the International Journal of Forecasting and the Economic Modelling, and it is part of the team behind the Warwick Business School Forecasting System. Her teaching includes a novel postgraduate course in economics and business forecasting with emphasis on their usefulness for decision-making under uncertainty. She was able to place her past PhD students in tenure-track jobs in academia and in policy institutions research positions.

Publications
Journal Articles
Bles, A. M. v. d., Linden, S. v. d., Freeman, A. L. J., Mitchell, J., Galvão, A. B., Zaval, L. and Spiegelhalter, D. (2019) "Communicating uncertainty about facts, numbers, and science", Royal Society Open Science , 6, 5, 181870
Carriero, A., Galvão, A. B. and Kapetanios, G. (2019) "A comprehensive evaluation of macroeconomic forecasting methods ", International Journal of Forecasting, 35, 4, 1226-1239
Galvão, A. B. and Owyang, M. T. (2018) "Financial stress regimes and the macroeconomy", Journal of Money, Credit and Banking, 50, 7, 1479-1505
Ana Galvao (2017) "Data revisions and DSGE models", Journal of Econometrics, 196, 1, 2015-232
Clements, M. P. and Galvão, A. B. (2017) "Model and survey estimates of the term structure of US macroeconomic uncertainty", International Journal of Forecasting, 33, 3, 591-604
Galvão, A. B., Giraitis, L., Kapetanios, G. and Petrova, K. (2016) "A time varying DSGE model with financial frictions", Journal of Empirical Finance, 38, Part B, 690-716
Clements, M. P. and Galvão, A. B. (2015) "Predicting early data revisions to US GDP and the effects of releases on equity markets", Journal of Business & Economic Statistics , 35, 3, 389-406
Carriero, A., Clements, M. P. and Galvão, A. B. (2014) "Forecasting with Bayesian multivariate vintage-based VARs", International Journal of Forecasting, 31, 3, 757-768
Galvão, A. B. and Marcellino, M. (2014) "The effects of the monetary policy stance on the transmission mechanism", Studies in Nonlinear Dynamics & Econometrics, 18, 3
Clements, M. P. and Galvão, A. B. (2013) "Forecasting with vector autoregressive models of data vintages : US output growth and inflation", International Journal of Forecasting, 29, 4, 698-714
Ana Galvao (2013) "Changes in predictive ability with mixed frequency data", International Journal of Forecasting, 29, 3, 395-410
Galvão, A. B. and Costa, S. (2013) "Does the euro area forward rate provide accurate forecasts of the short rate?", International Journal of Forecasting, 29, 1, 131-141
Clements, M. P. and Galvão, A. B. (2012) "Real-time forecasting of inflation and output growth with autoregressive models in the presence of data revisions", Journal of Applied Econometrics, Volume 28, Number 3, 458-477
Clements, M. P. and Galvão, A. B. (2012) "Improving real-time estimates of output and inflation gaps with multiple-vintage models", Journal of Business & Economic Statistics , Volume 30, Number 4, 554-562
Clements, M. P. and Galvão, A. B. (2010) "First announcements and real economic activity", European Economic Review , Vol.54, No.6, 803-817
Clements, M. P. and Galvão, A. B. (2009) "Forecasting US output growth using leading indicators : an appraisal using MIDAS models", Journal of Applied Econometrics, 24, 7, 1187-1206
Clements, M. P., Galvão, A. B. and Kim, J. H. (2008) "Quantile forecasts of daily exchange rate returns from forecasts of realized volatility", Journal of Empirical Finance, 15, 4, 729-750
Clements, M. P. and Galvão, A. B. (2008) "Macroeconomic Forecasting With Mixed-Frequency Data: Forecasting Output Growth in the United States", Journal of Business and Economic Statistics, Vol.26, No.4, 546-554
Artis, M., Galvão, A. B. and Marcellino, M. (2007) "The transmission mechanism in a changing world", Journal of Applied Econometrics, 22, 1, 39-61
Ana Galvao (2006) "Structural break threshold VARs for predicting US recessions using the spread", Journal of Applied Econometrics, 21, 4, 463-487