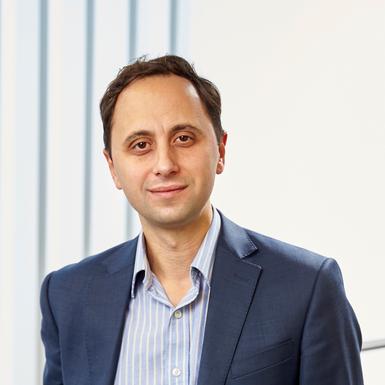 Research Interests
Professor Vlaev is interested in human decision making and behaviour change.

How does the brain integrate information in order to evaluate experiences and risks? How does it strike a balance between stability and context sensitivity in judgment and choice? What neural mechanisms underlie those fundamental cognitive abilities? This is the focus of the research aiming to advance understanding of human decision making, which is a convergence of disciplines (psychology, neuroscience, and economics) and a synergy of methods (experimentation, brain imaging, and quantitative modeling).

In behaviour change, the research focuses on developing an integrated theory of behaviour change which combines principles from psychology, neuroscience, and economics. Testing the theory involves developing and evaluating behaviour change interventions in various domains such as health (influencing lifestyle risk factors such as dieting and physical activity; modifying patient behaviours such as medication adherence; changing professional practice such as safety and quality of care) and finance (motivating customers to manage their money more effectively; design of financial products).


Applied Research
You can read a number of case studies relating to Professor Vlaev's research here.
Teaching in 2019-2020
Postgraduate Research Business and Management
IB9HH0: Behavioural Research in Decision Making and Entrepreneurship
Biography
Ivo Vlaev joined Warwick Business School, University of Warwick, as a professor of Behavioural Science in 2014. Professor Vlaev received his doctorate (D.Phil.) in Experimental Psychology from the University of Oxford and St. John's College. He was formerly a Research Fellow at University College London and a Senior Lecturer in Behavioural Sciences at Imperial College London.
In 2010, Professor Vlaev co-authored the
Mindspace
report published by the UK Cabinet Office, advising local and national policymakers on how to effectively use behavioural insights in their policy setting. Since then, he has helped public and private organisations develop and apply lessons from behavioural science.
Government sector: Public Health England, Department of Health, Her Majesty's Revenue and Customs, Cabinet Office, Money Advice Service, Financial Conduct Authority, Financial Reporting Council.
Private sector: Institute and Faculty of Actuaries, Decision Technology, Behavioural Architects, Tesco, E.on, AXA, Mindmetic, Fairbanking Foundation, Ipsos Mori, Swissre, City Corporation London, Barclays Bank, Capital One, Royal Bank of Scotland, Ecorys, Bearingpoint, Ogilvy, Ernst & Young, Pfizer, McDonald's.
Curriculum Vitae
You can find Ivo's CV here.
Publications
Journal Articles
Al-Khudairy, L., Kudrna, L., Lilford, R., Vlaev, I. and Watson, S. (2019) "Evaluation of a policy intervention to promote the health and wellbeing of workers in small and medium sized enterprises – a cluster randomised controlled trial", BMC Public Health, 19, 1
Sallis, A., Attwood, S., Harper, H., Larsen, J., Berry, D., Vlaev, I., Sanders, M. and Chadborn, T. (2019) "A randomised trial of the effect of appearance versus health-framed messages on engagement with an online brief screening and alcohol reduction intervention", Psychology & Health, 1-21
Realpe, A., Elahi, F., Bucci, S., Birchwood, M., Vlaev, I., Taylor, D. and Thompson, A. D. (2019) "Co‐designing a virtual world with young people to deliver social cognition therapy in early psychosis", Early Intervention in Psychiatry
Sallis, A., Porter, L., Tan, K., Howard, R., Brown, L., Jones, A., Ells, L., Adamson, A., Taylor, R., Vlaev, I. and Chadborn, T. (2019) "Improving child weight management uptake through enhanced National Child Measurement Programme parental feedback letters: A randomised controlled trial", Preventive Medicine, 121, 128-135
Gillman, T., Schmidtke, K. A., Manning, V. and Vlaev, I. (2019) "General Practitioners' recommendations of self-directed-exercises for musculoskeletal problems and perceived barriers and facilitators to doing so: a mixed methods study", BMC Health Services Research, 18, 1, 998
Quaife, M., Stoffel, S. T., Yang, J., Vlaev, I. and von Wagner, C. (2019) "Testing the decoy effect to increase interest in colorectal cancer screening", PLoS One, 14, 3, e0213668
von Wagner, C., Hirst, Y., Waller, J., Ghanouni, A., McGregor, L. M., Kerrison, R. S., Verstraete, W., Vlaev, I., Sieverding, M. and Stoffel, S. T. (2019) "The impact of descriptive norms on motivation to participate in cancer screening – evidence from online experiments", Patient Education and Counseling, 102, 9, 1621-1628
Schmidtke, K. A., Watson, D. G., Roberts, P. and Vlaev, I. (2019) "Menu positions influence soft drink selection at touchscreen kiosks", Psychology & Marketing
Brookes, O., Brown, C. A., Tarrant, C., Archer, J., Buckley, D., Buckley, L. M., Clement, I., Evison, F., Gao Smith, F., Gibbins, C., Hayton, E., Jones, J., Lilford, R., Mullhi, R., Packer, G., Perkins, G. D., Shelton, J., Snelson, C., Sullivan, P., Vlaev, I., Wolstenholme, D., Wright, S. E. and Bion, J. (2019) "Patient experience and reflective learning (PEARL) : a mixed methods protocol for staff insight development in acute and intensive care medicine in the UK", BMJ Open, 9, 7, e030679
Schmidtke, K. A., Nightingale, P. G., Reeves, K., Gallier, S., Vlaev, I., Watson, S. I. and Lilford, R. (2019) "Randomised controlled trial of a theory-based intervention to prompt front-line staff to take up the seasonal influenza vaccine", BMJ Quality & Safety, bmjqs
Gloster, R., Buzzeo, J., Cox, A., Bertram, C., Tassinari, A., Schmidtke, K. and Vlaev, I. (2018) "Behavioural insights into benefits claimants' training", Education + Training , 60, 1, 54-68
Cohen, D., Vlaev, I., Heitmueller, A., Parston, G., Schmidtke, K. and Darzi, A. (2018) "Validation of behavioral simulations : a case study on enhancing collaboration between partnership organizations", Journal of Public Health
Gillman, T., Schmidtke, K., Manning, V. and Vlaev, I. (2018) "General practitioners' recommendations of self-directed-exercises for musculoskeletal problems and perceived barriers and facilitators to doing so : a mixed methods study", BMC Health Services Research, 18, 998
Watson, J., Jordan, R., Adeb, P., Enocson, A., Greenfield, S. and Vlaev, I. (2018) "Understanding referral to Pulmonary Rehabilitation for COPD patients by Primary Health Care staff - a qualitative study using the Theoretical Domains Framework.", European Respiratory Journal, PA922
Judah, G., Darzi, A., Vlaev, I., Gunn, L., King, D., King, D., Valabhji, J. and Bicknell, C. (2018) "Financial disincentives? A three-armed randomised controlled trial of the effect of financial Incentives in Diabetic Eye Assessment by Screening (IDEAS) trial", British Journal of Ophthalmology, 1014-1020
Schmidtke, K., Poots, A. J., Carpio, J., Vlaev, I., Kandala, N. and Lilford, R. (2017) "Considering chance in quality and safety performance measures : an analysis of performance reports by boards in English NHS trusts", BMJ Quality & Safety, 26, 61-69
Trivedy, C. R., Vlaev, I., Seymour, R. and Philpott, M. (2017) "An evaluation of opportunistic health checks at cricket matches : the boundaries for life initiative", Sport in Society, 20, 2, 226-234
Liu, C., Vlaev, I., Fang, C., Denrell, J. and Chater, N. (2017) "Strategizing with biases : engineering choice contexts for better decisions using the Mindspace approach", California Management Review, 59, 3, 135-161
Thomson, C. L., Maskrey, N. and Vlaev, I. (2017) "Making decisions better : an evaluation of an educational intervention", Journal of Evaluation in Clinical Practice, 23, 2, 251-256
Taylor, M. J., Taylor, D., Vlaev, I. and Elkin, S. (2017) "Virtual worlds to support patient group communication? A questionnaire study investigating potential for virtual world focus group use by respiratory patients", British Journal of Educational Technology, 48, 2, 451-461
Vlaev, I., Wallace, B., Wright, N., Nicolle, A., Dolan, P. and Dolan, R. (2017) "Other people's money : the role of reciprocity and social uncertainty in decisions for others", Journal of Neuroscience, Psychology, and Economics, 10, 2-3, 59-80
Brennan, C., Vlaev, I., Blakemore, M. and Smith, N. (2017) "Consumer education and empowerment in Europe : recent developments in policy and practice", International Journal of Consumer Studies, 41, 2, 147-157
Schmidtke, K., Aujla, N., Marshall, T., Hussain, A., Hodgkinson, G. P., Arheart, K., Martin, J., Birnback, D. and Vlaev, I. (2017) "Using environmental engineering to increase hand-hygiene compliance : a cross-over study protocol", BMJ Open, e017108
Borovoi, L., Rezlescu, C. and Vlaev, I. (2017) "The psychological construal of health behaviors", European Review of Applied Psychology
Vlaev, I., Crockett, M. J., Clark, L., Müller, U. and Robbins, T. W. (2017) "Serotonin enhances the impact of health information on food choice", Cognitive, Affective, & Behavioral Neuroscience, 17, 3, 542-553
Aldrovandi, S., Kusev, P., Hill, T. and Vlaev, I. (2017) "Context moderates priming effects on financial risk taking", Risks, 5, 1, 18
Taylor, M. J., Vlaev, I., Taylor, D., Kulendran, M., Gately, P., Al-Kuwari, H., Darzi, A. and Ahmedna, M. (2017) "Cardiac autonomic regulation as a predictor for childhood obesity intervention success", International Journal of Obesity, 41, 5, 824-827
Kulendran, M., Vlaev, I., Gamboa, P. and Darzi, A. (2017) "The role of impulsivity in obesity as measured by inhibitory control : a systematic review", Medical Research Archives, 5, 8
Cohen, D., Vlaev, I., McMahon, L., Harvey, S., Mitchell, A., Borovoi, L. and Darzi, A. (2017) "The Crucible simulation : behavioral simulation improves clinical leadership skills and understanding of complex health policy change", Health Care Management Review, 1
Kulendran, M., Borovoi, L., Purkayastha, S., Darzi, A. and Vlaev, I. (2017) "Impulsivity predicts weight loss after obesity surgery", Surgery for Obesity and Related Diseases, 13, 6, 1033-1040
Judah, G., Darzi, A., Vlaev, I., Gunn, L., King, D., King, D., Valabhji, J., Bishop, L., Brown, A., Duncan, G., Fogg, A., Harris, G., Tyacke, P. and Bicknell, C. (2017) "Incentives in diabetic eye assessment by screening (IDEAS) trial : a three-armed randomised controlled trial of financial incentives", Health Services and Delivery Research, 5, 15, 1-60
Dormon, F., Balen, J., Schmidtke, K. and Vlaev, I. (2017) "Healthworkers' motivation in low and middle income countries : a systematic review of the literature ", Medical Research Archives, 5, 8
Hallsworth, M., List, J. A., Metcalfe, R. D. and Vlaev, I. (2017) "The behavioralist as tax collector : using natural field experiments to enhance tax compliance", Journal of Public Economics, 148, 14-31
Huf, S., King, D., Kerrison, R., Chadborn, T., Richmond, A., Cunningham, D., Friedman, E., Shukla, H., Tseng, F., Judah, G., Vlaev, I. and Darzi, A. (2017) "Behavioural text message reminders to improve participation in cervical screening: a randomised controlled trial", The Lancet, 390, S46
Leff, D. R., Yongue, G., Vlaev, I., Orihuela-Espina, F., James, D., Taylor, M. J., Athanasiou, T., Dolan, R., Yang, G. and Darzi, A. (2017) ""Contemplating the Next Maneuver" : functional neuroimaging reveals intraoperative decision-making strategies", Annals of Surgery, 265, 2, 320-330
Schmidtke, K., Watson, D. G. and Vlaev, I. (2016) "The use of control charts by lay-people and hospital decision-makers for guiding decision making", Quarterly Journal of Experimental Psychology, 70, 7, 1114-1128
Kulendran, M., Vlaev, I., King, D., Schmidtke, K., Curtis, C. and Darzi, A. (2016) "The use of commitment techniques to support weight loss maintenance in obese adolescents", Psychology & Health, 31, 11, 1332-1341
Schmidtke, K., Vlaev, I. and Baber, I. K. (2016) "Using behavioral economics concepts to increase organizational learning in an NHS hospital", Journal of Organizational Change Management, 29, 7, 1153-1161
King, D., Vlaev, I., Everett-Thomas, R., Fitzpatrick, M., Darzi, A. and Birnbach, D. J. (2016) ""Priming" hand hygiene compliance in clinical environments", Health Psychology , 35, 1, 96-101
Kulendran, M., Wingfield, L. R., Sugden, C., Darzi, A. and Vlaev, I. (2016) "Pharmacological manipulation of impulsivity : a randomized controlled trial", Personality and Individual Differences, 90, 321-325
Kulendran, M., Patel, K., Darzi, A. and Vlaev, I. (2016) "Diagnostic validity of behavioural and psychometric impulsivity measures : an assessment in adolescent and adult populations", Personality and Individual Differences, 90, 347-352
Vlaev, I., King, D., Dolan, P. and Darzi, A. (2016) "The theory and practice of "nudging": changing health behaviors", Public Administration Review, 76, 4, 550-561
Judah, G., Vlaev, I., Gunn, L., King, D., King, D., Valabhji, J., Darzi, A. and Bicknell, C. (2016) "Incentives in diabetic eye assessment by screening (IDEAS) : study protocol of a three-arm randomized controlled trial using financial incentives to increase screening uptake in London", BMC Ophthalmology, 16, 1
Trivedy, C. R., Vlaev, I., Seymour, R. and Philpott, M. (2016) "An evaluation of opportunistic health checks at cricket matches : the Boundaries for Life initiative", Sport in Society, 20, 2, 226-234
Dimitrov, Y. and Vlaev, I. (2016) "Nudging workers to make healthier food choices", European Work and Organizational Psychology in Practice, 8, 5-12
Story, G. W., Vlaev, I., Dayan, P., Seymour, B., Darzi, A. and Dolan, R. (2015) "Anticipation and choice heuristics in the dynamic consumption of pain relief", PLoS Computational Biology, 11, 3, 1-32, e1004030
Al Lily, A. E., Borovoi, L. and Vlaev, I. (2015) "Social informatics in education", Bulletin of Science, Technology & Society, 35, 5-6, 178-186
Wadge, H., Bicknell, C. and Vlaev, I. (2015) "Perceived ethical acceptability of financial incentives to improve diabetic eye screening attendance", BMJ Open Diabetes Research & Care, 3, 1, e000118
Story, G. W., Vlaev, I., Metcalfe, R. D., Crockett, M. J., Kurth-Nelson, Z., Darzi, A. and Dolan, R. J. (2015) "Social redistribution of pain and money", Scientific Reports, 5, 15389
Taylor, M. J., Vlaev, I., Maltby, J., Brown, G. D. A. and Wood, A. M. (2015) "Improving social norms interventions : rank-framing increases excessive alcohol drinkers' information-seeking", Health Psychology , 34, 12, 1200-1203
Dimotrov, Y. and Vlaev, I. (2015) "Corporate training in emotional intelligence : effective practice or modern 'fugazy'", European Journal of Work and Organizational Psychology, 2015, 7, 70-79
Vlaev, I. and Dolan, P. (2015) "Action change theory : a reinforcement learning perspective on behavior change.", Review of General Psychology, 19, 1, 69-95
Hallsworth, M., Berry, D., Sanders, M., Sallis, A., King, D., Vlaev, I. and Darzi, A. (2015) "Stating appointment costs in SMS reminders reduces missed hospital appointments : findings from two randomised controlled trials", PLoS One, 10, 9, e0137306
Vlaev, I., Nieboer, J., Martin, S. and Dolan, P. (2015) "How behavioural science can improve financial advice services", Journal of Financial Services Marketing, 20, 1, 74-88
Vlaev, I., Seymour, B., Chater, N., Winston, J. S., Yoshida, W., Wright, N., Symmonds, M. and Dolan, R. (2014) "Prices need no preferences : social trends determine decisions in experimental markets for pain relief", Health Psychology , 33, 1, 66-76
Blanchard, T. C., Wolfe, L. S., Vlaev, I., Winston, J. S. and Hayden, B. Y. (2014) "Biases in preferences for sequences of outcomes in monkeys", Cognition, Volume 130, Number 3, 289-299
King, D., Jabbar, A., Charani, E., Bicknell, C., Wu, Z., Miller, G., Gilchrist, M., Vlaev, I., Franklin, B. D. and Darzi, A. (2014) "Redesigning the 'choice architecture' of hospital prescription charts : a mixed methods study incorporating in situ simulation testing", BMJ Open, 4, 12, e005473
Vlaev, I. and Elliott, A. (2014) "Financial well-being components", Social Indicators Research, 118, 3, 1103-1123
Dolan, P., Kavetsos, G. and Vlaev, I. (2014) "The happiness workout", Social Indicators Research, 119, 3, 1363-1377
Story, G. W., Vlaev, I., Seymour, B., Darzi, A. and Dolan, R. J. (2014) "Does temporal discounting explain unhealthy behavior? A systematic review and reinforcement learning perspective", Frontiers in Behavioral Neuroscience, 8, 76
Hsu, A. S. and Vlaev, I. (2014) "Monetary cost for time spent in everyday physical activities", Social Science & Medicine, 108, 74-80
Winston, J. S., Vlaev, I., Seymour, B., Chater, N. and Dolan, R. J. (2014) "Relative valuation of pain in human orbitofrontal cortex", Journal of Neuroscience, Volume 34, Number 44, 14526-14535
Chater, N. and Vlaev, I. (2012) "Social projection without evidential reasoning", Psychological Inquiry, Vol.23, No.1, 35-38
Maltby, J., Wood, A. M., Vlaev, I., Taylor, M. J. and Brown, G. D. A. (2012) "Contextual effects on the perceived health benefits of exercise : the exercise rank hypothesis.", Journal of sport & exercise psychology, Volume 34, Number 6, 828-41
Vlaev, I., Chater, N., Stewart, N. and Brown, G. D. A. (2011) "Does the brain calculate value?", Trends in Cognitive Sciences, Vol.15, No.11, 546-554
Vlaev, I., Kusev, P., Stewart, N., Aldrovandi, S. and Chater, N. (2010) "Domain effects and financial risk attitudes", Risk Analysis, Vol.30, No.9, 1374-1386
Kurniawan, I. T., Seymour, B., Vlaev, I., Trommershauser, J., Dolan, R. J. and Chater, N. (2010) "Pain relativity in motor control", Psychological Science, Vol.21, No.6, 840-847
Vlaev, I., Chater, N. and Stewart, N. (2009) "Dimensionality of risk perception : factors affecting consumer understanding and evaluation of financial risk", Journal of Behavioral Finance, 10, 3, 158-181
Vlaev, I., Chater, N., Lewis, R. and Davies, G. (2009) "Reason-based judgments : using reasons to decouple perceived price-quality correlation", Journal of Economic Psychology, Vol.30, No.5, 721-731
Vlaev, I., Seymour, B., Dolan, R. and Chater, N. (2009) "The price of pain and the value of suffering", Psychological Science, Vol.20, No.3, 309-317
Vlaev, I., Stewart, N. and Chater, N. (2008) "Risk preference discrepancy : a prospect relativity account of the discrepancy between risk preferences in laboratory gambles and real world investments ", Journal of Behavioral Finance, Vol.9, No.3, 132-148
Vlaev, I., Chater, N. and Stewart, N. (2008) "Seeing is not enough : manipulating choice options causes focusing and preference change in multiattribute risky decision-making", Journal of Behavioral Decision Making, Vol.21, No.5, 556-574
Chater, N., Vlaev, I. and Grinberg, M. (2008) "A new consequence of Simpson's paradox : stable cooperation in one-shot prisoner's dilemma from populations of individualistic learners", Journal of Experimental Psychology: General, 137, 3, 403-421
Vlaev, I. and Chater, N. (2008) "Debiasing context effects in strategic decisions : playing against a consistent opponent can correct perceptual but not reinforcement biases", Judgment and Decision Making, 3, 6, 463-474
Vlaev, I., Chater, N. and Stewart, N. (2007) "Relativistic financial decisions : context effects on retirement saving and investment risk preferences", Judgment and Decision Making, Vol.2, No.5, 292-311
Vlaev, I., Chater, N. and Stewart, N. (2007) "Financial prospect relativity : context effects in financial decision-making under risk", Journal of Behavioral Decision Making, Vol.20, No.3, 273-304
Vlaev, I. and Chater, N. (2007) "Context effects in games : local versus global sequential effects on choice in the prisoner's dilemma game", Judgment and Decision Making, 2, 6, 380-389
Book Items
Ivo Vlaev (2018) "Financial markets : enhancing financial capabilities", Edward Elgar Publishing, Cheltenham, United Kingdom
Ivo Vlaev (2017) "Value attributes", Springer Verlag,
Nieboer, J., Dolan, P. and Vlaev, I. (2017) " Financial advisory services", Oxford University Press, Oxford
Taylor, D. F., Murphy, J., Ahmad, M., Purkayastha, S., Scholtz, S., Ramezani, R., Vlaev, I., Blakemore, A. I. F. and Darzi, A. (2016) "Quantified-self for obesity : physical activity behaviour sensing to improve health outcomes", 220, 414-416, IOS Press,
Taylor, M. J., Taylor, D. F., Gamboa, P., Vlaev, I. and Darzi, A. (2016) "Using motion-sensor games to encourage physical activity for adults with intellectual disability", 220, 417-423, IOS Press,
Chater, N. and Vlaev, I. (2011) "The instability of value", Chapter 4, Oxford University Press, Oxford
Vlaev, I. and Chater, N. (2008) "Relativity of financial preferences : how choice options influence investment decision making", Chapter 1, 7-36, Nova Science Publishers, New York