Business alumni insight: how a WBS scholarship helped me
28 November 2018
Did you know that Warwick Business School has a range of WBS Scholarships available for students applying to study on our MSc courses? We are continually investing in the future and welcome talented candidates from across the globe who are passionate about achieving their full potential, both academically and professionally.
We have £1million+ of WBS Scholarships available for those applying to our MSc courses and you will automatically be considered for a WBS Scholarship upon submitting your course application. You can find out more on our dedicated Scholarships page.
Where could a WBS scholarship take you? In this blog, two of our alumni share how receiving a scholarship helped them at university and beyond.
Nisant Mohta
MSc International Business, 2016 – 2017
Founder, Fincrux Technologies, Mumbai
On 4 February 2016, an email popped up in my inbox stating that I had received a scholarship from Warwick Business School. I cannot say that it was a dream come true because it was way beyond my dreams!
Beginning my journey at WBS
When I began my journey at Warwick, I was slightly nervous. Going to university in a different country was a bit intimidating and I felt that since Warwick gave me a scholarship, it was my duty to perform well. However, the atmosphere was really comfortable, helping me settle in quickly.
The year I spent at WBS gave me many learning outcomes but there is one that stands out. It taught me how to choose between what is right and what is easy. During high school and undergrad, I was always scared of numbers. All my elective choices were structured to avoid quantitative subjects. I remember in my first term at WBS, we had a subject called Quantitative Methods for Business and it seemed like a daunting task for me. However, the support and method of teaching helped me to score a distinction in that subject. It increased my confidence in dealing with numbers and I went on to choose finance and data related subjects as my electives. This helped me discover my passion for numbers and made me appreciate the power of data.
Where am I now?
After graduating from WBS, I started Fincrux, a company operating at the intersection of data analytics and behavioural finance. Fincrux is one of the 14 shortlisted start-ups for the incubation program at AIC-NMIMS Incubation Centre, NMIMS (University), Mumbai supported by Atal Innovation Mission, the National Institution for Transforming India (NITI Aayog) and the Government of India. Around 230 applications were received among which 14 were selected, including Fincrux, based on a business pitch. Fincrux will receive extensive mentoring from industry leaders and corporate experts and will get access to venture capital and private equity funding.
Warwick Business School has been pivotal to this – not only through helping me get rid of my fear but also assisting me in discovering my passion. Reiterating, WBS helped me discover what was right rather than always opting for what was easy.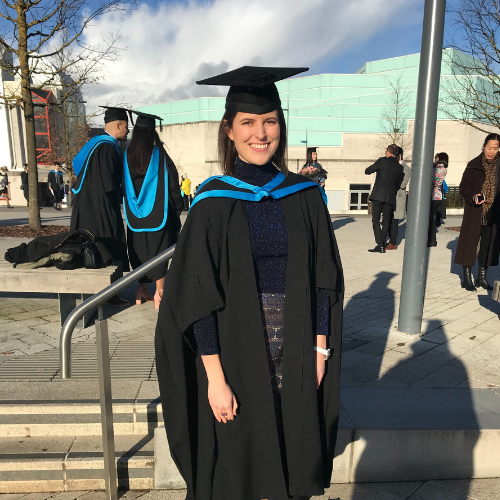 Madeleine Lapworth
MSc Business (Accounting & Finance), 2016 - 2017
Current job: Investment Banking Analyst, HSBC Global Banking and Marketing, London
I consider myself very lucky to have received a WBS scholarship for my postgraduate year of study and without it I would have had to seriously consider relying more heavily on my family for financial assistance. The scholarship gave me the ability to focus more clearly on my studies without having to worry about increasing my student debt or burdening my future finances.
Beginning my journey at WBS
Whilst my time at WBS was relatively short (one year), it was one of the biggest years of my life. My course taught me so much more than Business, Accounting and Finance; it taught me teamwork, resilience and helped me to make some incredible friends. The course provided me with an excellent grounding in a broad and diverse range of subject areas which are essential for my job in Corporate Finance. Warwick encouraged me to work with my fellow students to develop team skills which I now use every day. Having obtained a BSc Hons in Biological Sciences, my business education was limited but WBS gave me an excellent foundation in many aspects which I use daily and which I will continue to use and develop in my future career.
Where am I now?
Since leaving WBS, I successfully completed an Investment Banking Internship at HSBC and have subsequently been moved onto their industry leading two year Graduate Programme. Studying at Warwick helped to provide me with the knowledge and skills I use every day in my role in the Healthcare team. Without the opportunities I had whilst studying at WBS, I do not think I would be where I am today. WBS helped me to realise my dreams and ultimate career goal.